News story
More government contract opportunities published
Future contract opportunities with government have been published to boost UK business.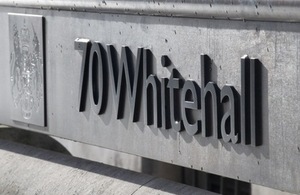 New details of future government business opportunities have been updated so suppliers big and small can plan ahead, invest and ultimately bid for more public sector contracts.
Information about what government will be buying over the next 4 to 5 years across a range of industry sectors, including ICT, health and those across local authorities, brings the total of available contracts to nearly £79 billion.
Visit Contracts Finder for future government contracting opportunities over £10,000.
Cabinet Office Minister Chloë Smith said:
Publishing up-to-date information in one central place about future government needs helps UK businesses to plan, get ahead of the game and grow.

We know that being transparent about opportunities available in the public sector is exactly what suppliers need to start looking at their business, investing and boosting their capabilities. This encourages suppliers of all sizes, and especially smaller suppliers, to think innovatively about how they could deliver effective government services, and promotes highly competitive bids that provide maximum value for taxpayer money.
There are currently 18 industry sector pipelines – each detailing the opportunities available across government and local authorities. See how this breaks down by sector.
Published 20 May 2013