News story
Modernising DVLA services update
An update on changes introduced following the Transforming DVLA Service public consultation.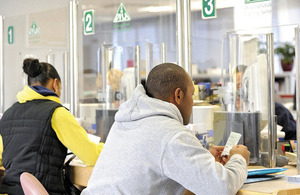 Since the Secretary of State for Transport announced the findings of the Transforming DVLA Services public consultation in July 2012 all 39 DVLA local offices are scheduled for closure by the end of 2013. Local office mail has since been redirected by the Royal Mail to DVLA Swansea for processing.
Buying a new vehicle from a motor trader
From today when a motor dealer registers and licenses a new vehicle, DVLA Swansea will print the tax disc and send it directly to the address of the registered keeper, the motor dealer or the fleet operator (depending on the option the dealer chooses when they register the new vehicle). The motor dealer will no longer hold stocks of tax discs on their premises. This means that the motor dealer may not give you the tax disc when you buy a newly registered vehicle.
New legislation now allows a vehicle to be used without displaying a tax disc for up to 14 calendar days from the date of first registration
Registering a vehicle
All V55 first registration application/s, including the appropriate fee and any supporting documents, should now be sent to DVLA Swansea SA99 1BE:
the Vehicle Registration Certificate (V5C), tax disc and any associated documents will arrive in separate envelopes within 14 working days. Note: you may receive your V5C before the tax disc
you will be able to use your vehicle on receipt of either the tax disc or V5C.
if after 14 working days you have not received your tax disc or associated documents please contact DVLA Swansea on 0300 790 6802
Personalised registration applications
Since 1 July personalised registration transfers, retention and assignment applications are sent with supporting documents and appropriate fee to DVLA Swansea SA99 1DS.
Trade Licensing Services
Trade plate applications have been dealt with centrally at DVLA Swansea since 1 May.
Post Office® branches
As well as being able to tax a vehicle online a range of vehicle licensing services was introduced to 4,600 Post Office® branches across the country on 24 June. Motorists can now:
tax a vehicle when they don't have the Renewal Reminder for a tax disc (V11), V5C or New Keeper Supplement (V5C/2)
tax a vehicle if they have a V5C/2 over two months old
change a vehicle's tax class
tax a Heavy Goods Vehicles using the Renewal Reminder for a tax disc (V85/1)
tax a reduced pollution vehicle
They can also:
get a duplicate tax disc at 400 Post Office® branches
use a "drop and collect" service for bulk transactions (9 or more applications)
To find your nearest vehicle taxing Post Office®, select 'car tax' on the branch finder service at the Post Office® website.
Engaging with stakeholders
DVLA's Modernising Services Network Project has maintained regular contact with stakeholders and customers through a newsletter. For more information see Transforming DVLA services.
To find out more about these changes please email MNS.Project@dvla.gsi.gov.uk.
Published 22 July 2013