Press release
DVLA services to be transformed to benefit motorists
Roads Minister Mike Penning gives the go-ahead for wide-ranging reforms to improve how DVLA works.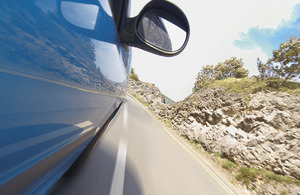 Motorists will benefit from a better, quicker service from the DVLA after Roads Minister Mike Penning today (4 July 2012) gave the go-ahead for wide-ranging reforms to improve how the Agency works. Key to the improvements is centralising the DVLA's services and making more transactions available online. This will make it easier than ever for people to deal with the agency at a time and place that suits.
This transformation of the DVLA's services will result in around £26 million year on year saving for the taxpayer.
Today's announcement means that the DVLA's 39 regional offices will close. It is hoped that some of the staff will be able to re-locate to the head office in Swansea. No offices will close until late next year when alternative services will be available either through its contract for front office counter services, online or directly from Swansea. DVLA will now work to help affected staff as a matter of priority.
Roads Minister, Mike Penning said:
The DVLA has been serving motorists for more than 40 years but times and customers' needs change. That is why the agency continues to transform its services to give customers more choice and flexibility while offering best value for money for the taxpayer.

These changes - developed after carefully listening to views expressed at consultation - will ensure that the agency delivers a smarter service to bring real benefits for the motor industry and every motorist in this country.

I understand that the phased closure of the regional offices will come as a disappointment to those directly affected. I would like to thank the staff in these offices who have played an important part in DVLA service delivery over the years.
DVLA's Chief Executive, Simon Tse said:
We are absolutely committed to delivering the best service we can. Our continued movement towards digital transactions and the greater use of other organisations to deliver services on our behalf will make it easier for motorists to deal with us in a way that suits them and also reduce significant burden on the motor industry and other stakeholders.

A top priority for us now is to support our staff who work in our regional offices. We will do everything we possibly can to provide help and guidance during what are clearly uncertain times for them. We are working closely with the Public and Commercial Services union and those members of staff directly affected to explore all avenues, including possible relocation to Swansea or redeployment within the Civil Service.
The reforms announced today follow a public consultation on the transformation of DVLA's services. The DVLA's response to the consultation and its Case for Change can be viewed here www.dft.gov.uk/dvla/transformation
The plans will also allow motorists in Northern Ireland to benefit from the same services that motorists in Great Britain have access to. This will give parity of service across the UK.
Key changes as part of the transformation agenda will see:
Motor dealers able to do far more for their customers using DVLA digital services. This will remove unnecessary burdens on the motorist and enable motor dealers to offer a one stop service in the vast majority of new and used vehicle sales.

Far greater use of front office services by intermediaries. This will mean that over 1 million licensing applications per year that currently can only be carried out at DVLA's 39 regional offices will be available via a much wider network of front office services –potentially up to some 6,000 outlets - cutting travel time for motorists and giving them much greater choice of where they choose to deal with DVLA.

A step change as more and more of DVLA's services become digital.

The removal of burden on motor dealers by centralising the printing and despatching of tax discs direct to the registered keeper at DVLA's headquarters in Swansea. Currently, motor dealers pay an indemnity to DVLA to store tax discs for the vehicles they register and licence – this typically amounts to a total of around £9 million per year. By removing the burden on motor dealers to store discs, smaller dealers who currently cannot afford the indemnity will benefit and those dealers who currently pay the indemnity will see the advantages by the removal of time consuming administrative burden.

The phased closure of DVLA's regional offices given the face to face channel at those offices will no longer be necessary for motorists to deal with DVLA. The work carried out at the 10 regional enforcement centres will be centralised in Swansea. No regional offices will close until alternative delivery channels are up and running. This means that the phased closures will not start until October 2013 and are expected to be completed by December 2013.
Notes to editors
The DVLA became an executive agency of the Department for Transport (DfT) in 1990. Previously known as the Driver and Vehicle Licensing Centre, the organisation has kept centralised records of drivers and vehicles since the early 1970's. The DVLA is responsible for maintaining registers of vehicles (36 million) and for drivers (44 million) in GB. The DVLA supports law enforcement and helps deliver a wide range of road safety initiatives in conjunction with DfT and plays an important role in crime prevention and crime reduction through enforcement, prosecution and intelligence gathering. The DVLA is responsible for collecting Vehicle Excise Duty (vehicle tax) for HMT, with nearly £6 billion collected in 2011/12.
The DVLA employs 6,048 staff with 1,213 affected staff employed in the 39 regional offices and 10 Enforcement Centres across GB. The 39 regional offices carry out a range of administrative functions such as arranging trade plates for garages, vehicle inspections and personalised registration mark transfers. The 10 Enforcement Centres carry out a range of back office duties relating to the DVLA's enforcement of offences which include failure to tax vehicles, having no motor insurance and for failing to tell the DVLA their vehicle is kept off the road.
The DVLA's 39 regional offices are located in Beverley, Birmingham, Bournemouth, Brighton, Bristol, Carlisle, Chelmsford, Chester, Exeter, Ipswich, Leeds, Lincoln, London Borehamwood, London Sidcup, London Wimbledon, Maidstone, Manchester, Newcastle Upon Tyne, Northampton, Norwich, Nottingham, Oxford, Peterborough, Portsmouth, Preston, Sheffield, Shrewsbury, Stockton, Theale, Truro, Worcester, Bangor, Cardiff, Swansea, Aberdeen, Dundee, Glasgow, Edinburgh, and Inverness.
The DVLA's 10 Enforcement Centres are co-located with the regional offices in Birmingham, Bournemouth, Exeter, Glasgow, Chelmsford, Leeds, Newcastle Upon Tyne, Nottingham, Preston and Sidcup.
The following table outlines the proposed closure programme for the regional offices in GB. This plan is subject to change and staffing levels will be kept under review throughout the transformation period. The viability of each office will be reviewed on a regular basis.
Although not included in the following table, it is expected that the enforcement work, which is currently carried out in 10 of the regional offices will be centralised in Swansea by the end of March 2013.
| Date for closure | Offices | Number of staff |
| --- | --- | --- |
| 31 October 2013 | Aberdeen | 9 |
|   | Bournemouth | 59 |
|   | Brighton | 19 |
|   | Carlisle | 10 |
|   | Chelmsford | 55 |
|   | Edinburgh | 24 |
|   | Ipswich | 17 |
|   | Lincoln | 16 |
|   | Sheffield | 23 |
|   | Norwich | 15 |
|   | Oxford | 10 |
|   | Shrewsbury | 18 |
|   | Stockton | 21 |
|   | Swansea | 30 |
| 30 November 2013 | Bangor | 12 |
|   | Beverley | 17 |
|   | Chester | 17 |
|   | Dundee | 11 |
|   | Exeter | 35 |
|   | Inverness | 8 |
|   | Maidstone | 30 |
|   | Peterborough | 24 |
|   | Sidcup | 83 |
|   | Theale | 21 |
|   | Truro | 13 |
|   | Worcester | 26 |
| 31 December 2013 | Birmingham | 46 |
|   | Borehamwood | 29 |
|   | Bristol | 29 |
|   | Cardiff | 34 |
|   | Glasgow | 69 |
|   | Leeds | 50 |
|   | Manchester | 64 |
|   | Newcastle | 48 |
|   | Northampton | 57 |
|   | Nottingham | 47 |
|   | Portsmouth | 20 |
|   | Preston | 59 |
|   | Wimbledon | 38 |
The DVLA is working closely with the Public and Commercial Services union and those members of staff directly affected to explore all avenues including possible relocation to Swansea or redeployment within the Civil Service.
Press office
DVLA Press Office
Longview Road
Morriston
Swansea
SA6 7JL
Email press.office@dvla.gsi.gov.uk
Telephone (only for use by journalists and the media): 0300 123 0791
Telephone (out of office hours – only for use by journalists and the media): 0300 123 2407
Published 4 July 2012