Press release
Ministers move to rid the land of litter scourge
Government will launch national clampdown on litter louts.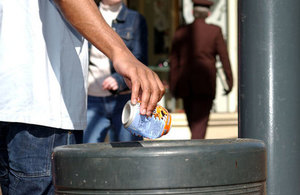 The government will launch a national clampdown on litter louts to liberate the country from trash and protect our neighbourhoods from becoming rubbish dumps.
Communities Minister Marcus Jones and Environment Minister Rory Stewart today (5 December 2015) sent a warning to those blighting England with litter that their selfish behaviour will no longer be tolerated.
They revealed work will begin on a first-ever national litter strategy to put in place a coherent clean-up plan for England. The ministers were clear this is a priority for our communities who deserve a lasting legacy of clutter-free towns, cities and countryside.
In order to galvanise a collective sense of responsibility over the issue, the government will for the first time work with town halls, campaign groups and businesses – including fast food firms and manufacturers of chewing gum, confectionary and soft drinks – to ensure a coherent and joined-up approach.
Alongside blighting our communities and damaging our wellbeing and environment it also costs taxpayers hundreds of millions of pounds a year. Ministers believe the national strategy is therefore necessary to help local areas shape their plans and effectively liberate the land from litter.
Communities Minister Marcus Jones said:
Littering and fly-tipping are deeply anti-social and unnecessary. It is not right that the behaviour of a selfish minority ends up blighting our landscapes and communities, while imposing costs for landowners and local taxpayers. We will work with communities and businesses to ensure that our national clean-up plan will be robust. Litter is a persistent, costly and avoidable problem and it is only right we take collective responsibility to end this scourge.

Earlier this year, hundreds of communities across the country answered a call to arms to help liberate their local areas from the litter louts who have blighted them for so long. This first-ever Community Clear Up day proved there was an enormous appetite across the country to tackle this problem and due to its success we want to make this annual event.

We will work with people of all ages and backgrounds who take great pride in their local communities so they can come together every year to send a clear message that littering will not be tolerated.
Environment Minister Rory Stewart said:
Litter has a huge impact on the quality of our streets and public spaces, which is why we will be working with businesses, environmental groups and local authorities to develop a national litter strategy.

We all have a responsibility to keep our communities tidy and our plans will improve the way we work together to tackle this persistent, costly and avoidable problem.

We are also giving councils new power to tackle small-scale fly-tipping and we will be reviewing the case for higher fixed penalties for littering.
The measures were announced as part of the government's response to a select committee report on littering.
One of the recommendations of the Communities and Local Government Select Committee Report on litter and fly-tipping was to make Community Clear Up Day an annual event. The government agrees and for 2016 one obvious option is to join-up with other interested organisations to deliver a hugely successful 'Clean for the Queen' for Her Majesty's 90th birthday.
Office address and general enquiries
2 Marsham Street
London
SW1P 4DF
Contact form https://forms.communit...
General enquiries: please use this number if you are a member of the public 030 3444 0000
Published 5 December 2015