Press release
Minister welcomes social investment collaboration between banks and charitable foundations ahead of G8 forum
New 'co-mingling' funds mix charitable and private capital to help deliver financial returns as well as social responsibility programmes.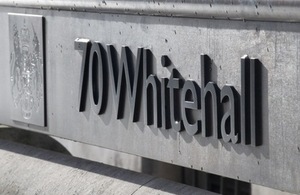 CAB 045-13
Cabinet Office Minister Nick Hurd has endorsed a new report that shows how charitable foundations can deliver further social benefit by partnering with private money from banks and individuals. The report comes ahead of a G8 forum on social investment, held in June, which will form a key part of the UK's G8 Presidency in 2013.
As not-for-profit bodies, foundations traditionally donate to other organisations through grants. However, a growing number are providing affordable but repayable finance to social enterprises and charities. This can add to the range of ways they use their resources effectively, as the returns on funds can be reinvested in new organisations and charitable projects.
The report, released today by the Cabinet Office, describes how commercial investors can partner with these foundations to co-fund these initiatives. It describes this joint investment as 'co-mingling funds'. The charitable foundation brings its expertise in how to allocate funds and can also take on a greater proportion of the risk. This allows them to attract private sources of capital that might not have been used for social benefit and gives banks a way to build on their existing corporate social responsibility (CSR) programmes.
Deutsche Bank, which has invested in one fund named in the report, said today that collaboration was essential for the continued success of the growing social investment sector.
Examples of this have already emerged in both the UK and the US. Big Issue Invest, the investment arm of the Big Issue magazine, set up a fund to invest in UK social enterprises. It raised £9.2 million from a group of foundations, together with 2 banks and wealthy individuals. It has so far made 9 investments worth £2.85 million. The nine recipients now collectively employ 323 more people since the investment.
Similarly the Global Health Investment Fund has been established to accelerate the development of drugs, vaccines and diagnostics for diseases that disproportionately affect developing countries. The fund was structured by JP Morgan and is managed by the London based Lion's Head Capital Partners and received support from foundations including the Bill and Melinda Gates Foundation together with wealthy individuals, public bodies and corporations. In this case, the Gates Foundation took on a greater level of risk to attract money that otherwise might not have been invested in a project that delivers a social benefit.
Nick Hurd, Minister for Civil Society said:
Both private and socially-motivated investors should take note of this report. It explores groundbreaking investments by US and UK foundations that reveal opportunities to achieve greater social impact with their money. By shining a light on these we hope to share information and learning, and contribute to the on-going development of investments that have a positive impact around the world.
Asad Mahmood, Managing Director at Deutsche Bank said:
As the Social Investment sector is in an early stage of development, collaboration of differently motivated money is essential. Charitable foundations can play a pivotal role and leverage their resources multiple times for their mission by mitigating some of the private investors' real and perceived risks.
David Emerson, CEO Association of Charitable Foundations said:
We believe this report will widen knowledge about the options available to UK charitable and other investors. We also hope that it will inform thinking more generally about whether social investment can serve as an additional tool for trustees who, in today's economic climate, are more eager than ever to learn about new ways that may help them achieve their mission.
Notes to editors
The report, 'Achieving social impact at scale: case studies of seven pioneering co-mingling social investment funds', has been published today by the Office of Civil Society.
Media enquiries
Out of hours 07074 667 000 (please note, this number cannot receive text messages)
Published 3 May 2013