Minister marks £2.5 billion employment and skills funding boost with visit to prison restaurant
Employment Minister Priti Patel launches the £2.5 billion European Social Fund (ESF) programme for England at Styal prison in Cheshire.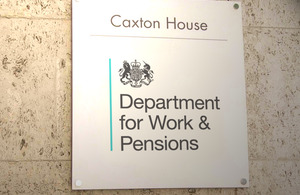 Organisations across England could benefit from the European Social Fund (ESF). HMP Styal is receiving ESF funding to help female prisoners get ready for the world of work.
Minister for Employment Priti Patel said:
There is no better place to launch this funding than HMP Styal, where the money is already having such a positive effect. The funding announced today will support countless projects which are reaching out to people just like this one. It is an inspirational example of how the funding can change lives and move people closer to employment.

The positive impact of the ESF programme will be felt across the entire country and is good news for communities, helping to maximise support for jobs and growth.
Under the programme trained work mentors will go into the prison to help inmates get support and address difficulties that might stop them entering employment when they leave prison, such as addiction, mental health issues or a lack of literacy. The project is part of an £18 million ESF investment in the north-west by the National Offender Management Service.
The minister also visited the Clink Restaurant, an innovative project that trains prisoners to work in an eatery open to the public. Prisoners are able to gain experience and qualifications in a real workplace, preparing them for a career once they have served their sentences.
As well as visiting inside the prison and meeting some of the inmates benefiting from ESF funding, the minister spoke to case managers, ESF stakeholders and partners at a ceremony at the restaurant.
Also, on the agenda for the minister's visit to the north-west was the first ever north-west conference aimed at getting more people from disadvantaged groups into work. Employers such as the AA, Greater Manchester Police and the Co-op Bank attended the event at Fujitsu's Manchester offices to discuss what more employers can do to draw on the skills and experiences of ex-offenders, care leavers and the long-term unemployed.
The event was part of the government's See Potential campaign which is backed by Simon Cowell, Sir Richard Branson, Deborah Meaden and over 80 employer organisations.
Prisons Minister Andrew Selous said:
As we reform our prison estate, we are committed to providing prisoners with education, work and an opportunity to redeem themselves. That way we can reduce reoffending, cut crime and keep our streets safer.

Providing meaningful training which offers prisoners a real opportunity to turn their lives around, develop skills and a real work ethic are key elements of helping prisoners find a job on release.
Minister for Employment Priti Patel added:
Groups like ex-offenders and people leaving care have more than most to prove and can make fantastic employees. Evidence shows they go the extra mile to secure results, stay in a job for longer, have a strong commitment to their employer and take less time off work. It's not just about transforming lives – it's also good business practice.
Regina Moran, Fujitsu UK CEO, said:
We hire people from disadvantaged groups because it works for our business. We find the aptitude of candidates from these backgrounds is extremely high and that's matched by huge energy and passion to secure results. We see potential in diverse candidates because we're committed to representing the communities we serve.
European Social Fund
The ESF Operational Programme for England was adopted by the European Commission in autumn 2015. This was a key milestone for the programme and means that all 3 of the funds which form the European Structural and Investment Funds (ESIF) growth programme in England are officially approved. Each of the full and final Operational Programme documents can be found on GOV.UK.
Across England, €3.5 billion (approximately £2.53 billion) is being made available through ESF to support projects in Local Enterprise Partnership areas throughout the 2014 to 2020 programme period.
See Potential
Research by Business in the Community (BITC) shows clear business benefits in hiring people from disadvantaged backgrounds. Of those that have become more inclusive, over 90% of firms say it's been beneficial, with 92% saying it's enhanced their reputation.
Two thirds (65%) say it's boosted skills levels across their workforce and around half say it's even benefited them financially – often by opening up new markets and helping them secure new contracts.
The business benefits of recruiting from a diverse background are outlined in Business in the Community (BITC): Business Benefits of Work Inclusion (2015).
The challenges faced by employers to recruit staff is highlighted by the Chartered Institute of Professional Development (CIPD) in the 2015 CIPD/Hays Resourcing and talent planning survey.
Business attitudes towards candidates from disadvantaged groups are highlighted in a DWP YouGov survey of 630 British employers (2015).
Contact Press Office
Media enquiries for this press release – 0203 267 5118
Press Office
Caxton House
Tothill Street
London
SW1H 9NA
Follow DWP on:
Published 26 January 2016