Press release
Minister for the Middle East visits the Gaza Strip
Foreign Office Minister for the Middle East Tobias Ellwood visits Gaza and meets Palestinian Authority Minister for Labour.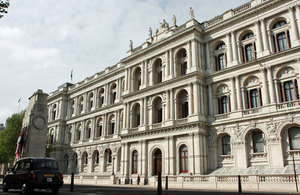 British Minister for the Middle East Tobias Ellwood MP visited the Gaza Strip today. He was the first British Minister to travel to Gaza since this summer's conflict.
Mr Ellwood visited the Shujaiyya neighbourhood and the damaged Commonwealth War Graves Cemetery, and witnessed the destruction resulting from the conflict. He met a group of Gazan businessmen and academics to hear of the impact of the conflict on Gaza's people. He discussed with Palestinian Authority Minister for Labour Mamoun Abu Shahla the considerable challenges ahead in rebuilding Gaza and restoring Palestinian Authority control over the Strip.
Following his visit, Mr Ellwood said:
Today I saw first-hand the disastrous consequences of this summer's conflict in Gaza. I was profoundly shocked and saddened at the suffering ordinary Gazans have experienced.
The UK is already deeply engaged in providing humanitarian support for those affected. The UK has committed £19.1m in humanitarian aid and medical assistance from UK health experts, providing essential shelter, food, clean water and medicine.
The cycle of violence we have seen in Gaza is unsustainable. Humanitarian aid is not enough. We must address the underlying causes of this repeated conflict: for the sake of ordinary Palestinians across the Strip and for Israelis too.
Action is urgently needed. Negotiations in Cairo present a genuine opportunity for the violence to end, to provide peace and security to Palestinians and Israelis and for movement and access restrictions to be lifted. It is important that the Palestinian Authority returns to Gaza to provide services and security to all Gazans.
The devastation I have seen today in Gaza serves to underline the need for the need for all parties to work urgently towards a negotiated two state solution, creating a Palestinian State with Gaza as a fundamental part of it, and Jerusalem as a shared capital, alongside Israel.
Further information
Follow Foreign Office Minister Tobias Ellwood on Twitter: @TobiasEllwoodMP.
Follow the Foreign Office on Twitter.
Follow the Foreign Office on Facebook & Google+.
Published 6 October 2014