Press release
Minister for the Middle East condemns bomb attacks in Yemen
Tobias Ellwood condemns suicide bomb attacks in Yemen and reaffirms UK support for the political transition.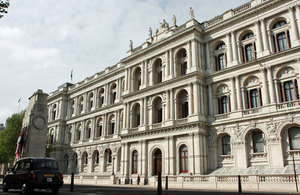 Mr Ellwood said:
I condemn in the strongest terms the appalling bomb attacks at the two mosques in Sana'a and a mosque in Sa'ada today, which have reportedly killed at least 126 people and seriously injured many more. I offer my condolences to the families and friends of those killed and injured. Such violence against civilians can never be justified.
The UK underlines its support for President Hadi. Following on from an airstrike against the Presidential Palace in Aden and an attack at the International airport, I urge all sides to refrain from the further use of military force and violence.
The UK continues to believe that an inclusive political process is the best way to achieve long-term stability, avoid civil war, economic collapse and a humanitarian catastrophe in Yemen.
Further information
Follow Foreign Office Minister Tobias Ellwood on Twitter: @TobiasEllwoodMP.
Follow the Foreign Office on Twitter.
Follow the Foreign Office on Facebook & Google+.
Published 20 March 2015