Press release
Minister for the Middle East comment after meeting of Quad on Yemen
Tobias Ellwood calls on all parties to bring about peaceful resolution to conflict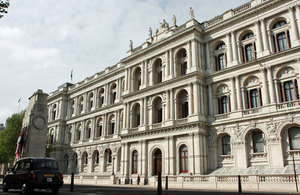 Tobias Ellwood calls on all parties to bring about peaceful resolution to conflict
Minister for the Middle East Tobias Ellwood said:
"My meeting with Saudi Arabia, UAE, Oman, UN and the US was a clear example of the UK's active diplomacy in trying to find a political settlement to the Yemeni conflict.
"I call on all parties to work closely with the UN Special Envoy to bring about a peaceful resolution.
"This must start with the parties committing to engage with the UN on resuming a Cessation of Hostilities, including active participation in the De-escalation and Coordination Committee to ensure that ceasefire is effective and durable.
"I also urge all parties to work to improve humanitarian and commercial access to Yemen to help alleviate humanitarian suffering.
"It was clear from today's meeting that in Yemen there is a real desire to achieve peace. The UK will continue to play a central role in supporting that aim."
Notes to editors:
A communiqué released after the meeting in Riyadh on Sunday 18 December 2016 is available here: http://www.state.gov/r/pa/prs/ps/2016/12/265752.htm
Further information
Published 19 December 2016