Press release
Minister for Africa welcomes release of Meriam Ibrahim in Sudan
Mark Simmonds welcomes release of Meriam Ibrahim and calls on Government of Sudan to guarantee religious freedom for all.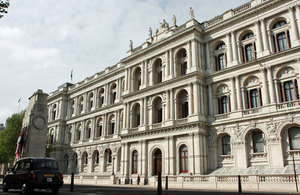 Commenting after Meriam Ibrahim, who had previously been sentenced to death for apostasy, boarded a plane leaving Sudan with her family, Minister for Africa Mark Simmonds said:
I am delighted that Meriam Ibrahim has been able to leave the country safely with her family.

I welcome last month's decision by the appeal court to overturn the barbaric sentence handed down in May. Freedom of religion or belief is a fundamental human right enshrined in both international human rights law and Sudan's own 2005 Interim Constitution. I call on the Government of Sudan to reflect on the lessons of Meriam's case and ensure that this right is upheld for all.
Further information
Follow Foreign Office Minister Mark Simmonds on twitter @MarkJSimmonds
Follow the Foreign Office on twitter @foreignoffice
Follow the Foreign Office on facebook and Google+
Published 24 July 2014