Minister for Africa welcomes conviction of Somali Pirates in Seychelles
Minister for Africa Henry Bellingham said that such prosecutions demonstrate there will be serious consequences for the actions of pirates.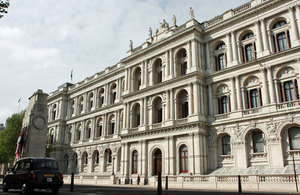 The nine Somalis were sentenced to 22 years in prison for attacks on a Seychellois fishing boat and an Iranian dow off the Seychelles in March this year. The pirates boarded both vessels and took a number of hostages. They were tracked down by aircraft under the command of the European Naval Force (EUNAVFOR) who directed a Seychelles coastguard ship on to the target. The coastguard subsequently recaptured the vessels following an exchange of gunfire with the pirates.
All the hostages were freed unharmed.
Speaking after the conviction, Foreign Office Minister Henry Bellingham said:
"I would like to congratulate the Seychelles for securing this prompt conviction. Such prosecutions demonstrate to the pirates that there will be serious consequences for their actions. It is also a good example of how the international community can work together to tackle this issue. The cooperation between the Seychelles coastguard and EUNAVFOR continues to prove very effective."
Published 16 December 2010