Press release
Minister for Africa shines spotlight on African Great Lakes
Mark Simmonds highlights window of opportunity which exists in 2014 in African Great Lakes to break the cycle of violence.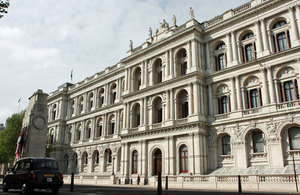 Decades of conflict in the Democratic Republic of Congo (DRC) and the Great Lakes region have left the DRC unstable and poor. In an effort to focus the minds of the international community and the region and to highlight the opportunities which exist over the next six months to bring greater peace and stability to the Great Lakes, the UK chaired a Security Council debate on the region on 7 August.
FCO Minister for Africa Mark Simmonds MP, who chaired the debate, emphasised the importance of the countries of the region leading and providing solutions. He welcomed the progress which had been made since the Peace, Security and Co-operation Framework (PSCF) was signed in February 2013: progress against armed groups and progress on preventing sexual violence in conflict. He highlighted the need to support both the DRC government on its reform agenda, and the UN mission to DRC, MONUSCO, in its efforts to fulfil its mandate.
Mr Simmonds looked forward to a day when armed groups were no longer a threat in DRC, when there was an end to impunity and when MONUSCO could draw down, allowing the Congolese people to have greater responsibility for their security.
Mr Simmonds called for progress by the year's end.
We will have lost the opportunity if, in two years' time, we cannot look back to further, real and tangible progress.
He called for:
Full and swift implementation of the Kampala Dialogue Declaration, particularly the status of repatriation of former M23 combatants.
Full and swift disarmament of the Democratic Forces for the Liberation of Rwandan (FDLR), a genocidal, illegitimate, sanctioned armed group. He called on all FDLR combatants, including its leadership, to surrender immediately.
Full and swift implementation of their commitments by all national signatories of the PSCF.
Mr Simmonds paid tribute to the work of Mary Robinson, the UN Secretary General's outgoing Special Envoy to the Great Lakes. He welcomed the appointment of her successor Said Djinnit.
I pay particular tribute to Mary Robinson for her determined and dedicated pursuit of peace in the Great Lakes region. We are fortunate that we have such an excellent replacement in Said Djinnit.
Mr Simmonds also co-chaired an informal ministerial meeting on the Great Lakes with UN Special Envoy Mary Robinson. Present were Foreign Ministers and Defence Ministers from across the region.
Further information
Follow Foreign Office Minister Mark Simmonds on twitter @MarkJSimmonds
Follow the Foreign Office on twitter @foreignoffice
Follow the Foreign Office on facebook and Google+
Published 7 August 2014