News story
Military courage recognised by Operational Honours List
A soldier who single-handedly saved Afghan and Danish soldiers from an explosive trap is among those recognised for bravery on operations.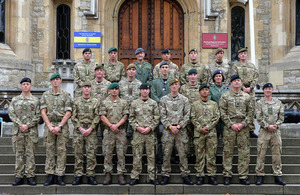 Warrant Officer Class 1 Andy Peat's story is just one example of the many tales of courage shared as scores of personnel from all 3 Services were honoured at an event which was hosted at the Tower of London yesterday, 3 October.
Peat's is one of 117 awards for gallantry and meritorious service included in Operational Honours and Awards List 41, which covers the period between September 2012 and April 2013. Many of those recognised served with 4th Mechanized Brigade, which deployed to Afghanistan in the autumn of 2012.
Speaking at the event, Lieutenant General Adrian Bradshaw said:
I am honoured to present a very special group of people to you today and to recognise the incredible achievements of servicemen and women who have served on operations for the last 12 months.

It's worth stressing the tri-Service nature of these awards. Regularly on operations around the world our servicemen and women face mortal danger, none more so than those who serve in Afghanistan. A small selection of those honoured are represented here today, but I take this opportunity to very publicly pay tribute to them all.
The list of honours recognises the immense bravery of those who regularly face danger around the world, including those who show heroism saving people from dangerous waters around the UK. However, the list inevitably includes many who served last winter in Helmand province under the command of 4th Mechanized Brigade.
Having read the citations, the General said that he was humbled by the achievements of British servicemen and servicewomen:
Some are quite young and provide fantastic role models for their civilian peers," he said. "They are the core strength of our Armed Forces. They prove that with good people you can achieve just about anything.
Paying tribute to the 9 servicemen who had given their lives in the service of their country during the tour, General Bradshaw said:
Their bravery and sacrifice will never be forgotten, and we will continue to support their families.
Brigadier Bob Bruce, who was the Commanding Officer of Task Force Helmand between October 2012 and April of this year, said:
I'm delighted for the opportunity to pay tribute to the remarkable men and women who served with me. Today you will meet some of the heroes who have attracted national recognition. But I want to pay tribute to them all, because they all deserve our thanks.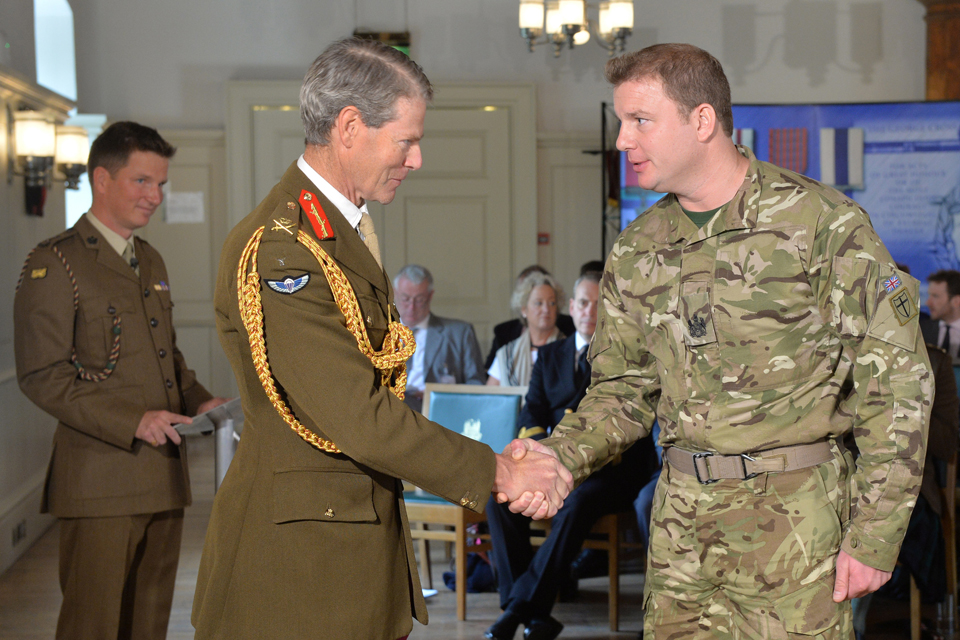 The Brigadier pointed out that the tour was always going to be about change – pushing the Afghan National Security Forces (ANSF) into the lead in terms of holding and being responsible for security:
At the time we deployed that transition was really gathering momentum, placing us in a supporting role, which is counter-cultural to the British military way – our instinct is to seize control and hold on to it. But during our tour the aim was to pass that control to the Afghans and support them in holding on to it – which is what we did," he said.

So I am honoured to pay tribute to the bravery and professionalism of the men and women who drove that change. They can and they do fight like lions – but they can also change their focus in an instant and show great judgement and restraint and compassion. And from the most junior and inexperienced right up to the most experienced they all understood the nuances of the job they were doing. I am hugely proud of them and all they have achieved.
The Defence Secretary, Philip Hammond, said:
While the role of our forces in Afghanistan is changing, with the Afghan forces assuming the lead for security operations across the country, the courage and bravery of British forces deployed remains constant and undiminished.

Those honoured today have displayed exceptional dedication and commitment to their country, their comrades and the mission. As we enter the final phases of combat operations in Afghanistan, British forces deserve our recognition and gratitude for their role in helping to keep us safe in the UK.
During Herrick 17, 4th Mechanized Brigade continued to support the development of the ANSF into a force capable of taking control of their own security. An increasing number of operations were planned and implemented independently by the Afghans, with the International Security Assistance Force providing a 'protective wrap'.
A full list of those honoured can be found here.
Published 4 October 2013