Press release
Middle East Minister welcomes Syria sanctions
Tobias Ellwood welcomes new penalties against Assad allies.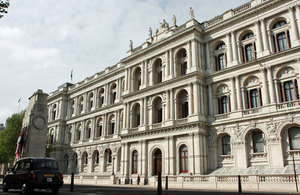 The Minister for Middle East and North Africa Tobias Ellwood has welcomed action in the Foreign Affairs Council (FAC) which will penalise key figures in the Assad regime including a notoriously brutal military commander and one of the main providers of chemical weapons.
Speaking after the FAC announcement, Tobias Ellwood said:
Today 12 new targets have been added to our Syria sanctions. These include Colonel Suhayl Hasan, also known as 'The Tiger', one of Assad's most notorious military commanders, who has been responsible for the suffering of innocent civilians across Syria. The sanctions also include some of those responsible for producing Assad's chemical weapons, which have been used to kill hundreds of innocents.

The only long-term solution to the devastating conflict in Syria is a political settlement. But for this to happen, Assad's brutal regime needs to negotiate in good faith. Assad has shown he is unwilling to do this as things stand. So we need to increase the pressure on him, and those that keep him in power. These sanctions tell them that their actions will not be tolerated.
Further information
Follow Foreign Office Minister Tobias Ellwood on twitter @TobiasEllwoodMP
Follow the Foreign Office on twitter @foreignoffice
Follow the Foreign Office on facebook and Google+
Published 23 July 2014