Michael Gove invites all schools to become academies
Information on Michael Gove's letters to all headteachers inviting them to convert their school to academy status.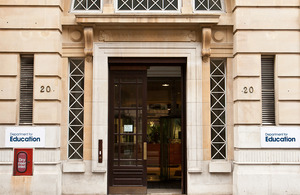 All primary, secondary and special schools were today invited to become academies - offering them greater independence and freedom.
Education Secretary Michael Gove wrote to every headteacher in England saying he wanted to open up the academies programme to all schools including, for the first time, primaries and special schools.
He also pledged to make the process of becoming an academy quicker and less bureaucratic, removing local authority powers to block schools that want to become academies.
Schools that are rated 'outstanding' by Ofsted will be fast-tracked through the process.
Subject to Parliamentary approval of the Academies Bill, introduced in the House of Lords today, the first tranche of these academies will open in September 2010.
Education Secretary Michael Gove said:
'The government is genuinely committed to giving schools greater freedoms. We trust teachers and headteachers to run their schools. We think headteachers know how to run their schools better than bureaucrats or politicians.
'Many school leaders have already shown a keen interest in gaining academy freedoms. They want to use those powers to increase standards for all children and close the gap between the richest and the poorest.
'Today I am inviting all schools to register their interest. It is right that they should be able to enjoy academy freedoms and I hope many will take up this offer.'
Notes to editors
Read transcripts on this page of Michael Gove's interviews with
BBC Today programme
BBC Breakfast
GMTV
The Education Secretary's letters to headteachers can be viewed on the Department's 'Academies' pages. Schools can register their interest to become an academy within this section of the website.
DfE media enquiries
Central newsdesk - for journalists 020 7783 8300
Published 26 May 2010