Press release
McDonald's starts to count the calories
McDonald's will introduce calorie information to all of its menus throughout all of its 1,200 UK restaurants.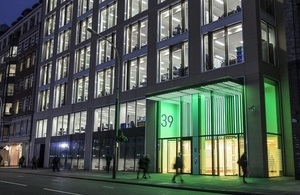 On Wednesday this week, McDonald's will introduce calorie information to all of its menus throughout all of its 1,200 UK restaurants, the Department of Health announced today. 
People will now be able to see at a glance how many calories are in their burger, salad, Happy Meal or milkshake.
McDonald's will fulfil its commitment to the calorie labelling pledge as part of the Responsibility Deal and it will begin to implement labelling on its menu boards around the country. Along with the other companies already signed up to the pledge, including KFC, Pizza Hut, Pret a Manger and JD Wetherspoon, they will now begin to transform over 5,000 high street food outlets by end of the year.
The Responsibility Deal is a new approach to tackling public health concerns.  Instead of tying the food and drinks industry up in red tape, the Government is working in partnership with them and charities to deliver faster and better results.
Research shows that calorie labelling makes people more aware of the energy content of their foods and does influence people's choices.  So with McDonald's serving three million meals every day in 1,200 restaurants, this will have a huge effect on the high street and will help people to make healthier choices when they are eating out.
The Department of Health is also announcing that Greggs, Starbucks and Burger King have signed up to the Out of Home calorie labelling pledge and will introduce it in their outlets from next year.
Health Secretary Andrew Lansley said:
"One in six meals are now eaten outside the home and for those meals we often have no idea how many calories we are eating. 
"That is why this is such a great achievement by the Responsibility Deal.  It will help people spot those hidden calories in their favourite foods and keep an eye on their waistlines."
Jill McDonald, CEO and President, McDonald's UK, said:
 
"In March we announced our intention to extend the communication of nutritional information to our customers to include displaying calories on our menu boards across the UK. This move, as part of the Public Health Responsibility Deal, supports the principles we believe are important: giving our customers clear information to help them make decisions that are right for them and provide a choice on our menu."
Brian Waring, Vice President of Marketing & Category, Starbucks UK and Ireland, said:
 
"We are committed to being as transparent as possible when it comes to giving our customers nutritional information and it's important that we do so in a way that's useful and easy to use.  During our recent trials customers backed the move and told us it was the right thing to do."
Susan Jebb, Chair of the Responsibility Deal Food Network said:
"This is an exciting time for our high street.  McDonald's, one of our largest restaurant chains, will now give every customer the information they need to make an informed choice about what they eat.
"I hope this example encourages other restaurants to introduce calorie labelling and makes people question what those without calorie labelling have got to hide."
Notes to editors
1. A list of the 38 companies that originally signed up to the out of home calorie labelling pledge can be found on the Department of Health website.
2. For further media enquiries please call the Department of Health Newsdesk on 020 7210 5221.
Published 5 September 2011