Manchester to kickstart green homes revolution
Housing Minister Grant Shapps today unveiled the pioneer project that will pave the way for the green transformation of Britain's social homes…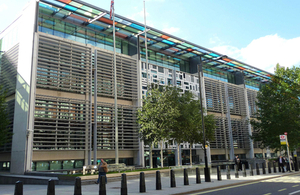 Housing Minister Grant Shapps today unveiled the pioneer project that will pave the way for the green transformation of Britain's social homes - making them warmer and more comfortable to live in, and at the same time cheaper to run.
In the largest scheme of this kind to date, improvements such as solid wall insulation and better heating systems will be made to 9,000 social homes in Manchester to make them more energy efficient.
The cost of the work will be paid upfront by the housing association - tenants will then meet this cost through the money they save on energy bills, which could be up to £500 per year. The project could create more than 1,800 jobs and bring a £100 million boost to local businesses carrying out the home improvements.
The project will test key features of the Green Deal - the Government's new and radical way of making energy efficiency available to all, whether people that own or rent their property. Under the Green Deal, which will begin next year, the expected cash savings for homeowners and tenants will be greater than the costs to upgrade the property over the lifetime of the improvements.
Upgrades will initially be made to 2,500 properties within the Greater Manchester Housing Retrofit Programme, and will prepare the way for Greater Manchester's 260,000 social homes to take up the Green Deal.
Housing Minister Grant Shapps said:
With homes counting for a quarter of all UK emissions, we must and can do more to make our homes greener. That's why we're nailing down a zero carbon approach so tough new green standards can come into effect from 2016.

But we also want to upgrade existing housing stock so everyone can enjoy the benefits of warmer homes and lower energy bills. That's why I'm delighted to announce for the first time, a large scale project to upgrade thousands of social homes.

The scheme in Manchester will save tenants hundreds of pounds on energy bills, and create hundreds of jobs for local people. It shows that going green is not just an environmental necessity; it's also a huge economic opportunity for UK companies to expand their businesses, and become world leaders in the shift to a low carbon economy.
Energy and Climate Change Secretary Chris Huhne said:
Tenants in Manchester are getting an advance preview of key elements of the Green Deal: they're going to feel the real benefit of warmer and comfier homes at the same time as cutting their energy bills.

I want the Green Deal to work for everyone - whether people own or rent their home. In twenty first century Britain, no one should have to put up with draughty and cold homes.
Cllr Dave Goddard Chair of the Greater Manchester Environment Commission said:
This is a great opportunity to use the expertise and scale of the social housing sector in Greater Manchester to test implementation of the Government's Green Deal. This will strengthen our work with businesses to develop the skills and jobs to deliver home energy improvements to all our homes, particularly those which are very expensive to heat.

We have strong partnerships in place across Greater Manchester and we are determined to drive the low carbon economy, to constantly build up the social, environmental and economic benefits for all our communities
Manchester's pioneering scheme will provide a valuable model for upgrading the country's 3.8 million households in the social rented sector, which account for nearly 20 per cent of all households in England. Social landlords will bear the upfront costs - tenants will then pay a contribution to the costs through their rents, but will save money overall through lower fuel bills.
The retrofit project will act as a beacon for both investors and other social housing providers in demonstrating the vast potential for Green Deal investment in that sector.
By 2015 up to 100,000 Green Deal workers could be employed nationally in the effort to upgrade Britain's homes. Currently around 27,000 work in the insulation industry. Legislation to start the process of establishing the Green Deal is currently before Parliament. Improving the energy efficiency of homes will also make a large contribution to reducing carbon emissions - homes count for around a quarter of all UK emissions and the majority of people waste money through energy bills.
Notes to editors
1. Ministers have announced a pioneering retrofit project with the Greater Manchester Housing Retrofit Programme, which will provide a model for investors and other social housing providers in demonstrating the vast potential for Green Deal investment in that sector.
2. Initially Salix Homes, as part of the Greater Manchester Housing Retrofit Programme, will develop the initiative as part of its current investment programme. The scheme will then be rolled out to up to 9,000 under the retrofit programme, which will prepare the way for Greater Manchester's 260,000 social homes to take up the Green Deal.
3. The scheme will provide valuable lessons for:
supporting local government and social housing providers in considering the potential of Green Deal as significant investment opportunity

increasing understanding of the development time and preparation needed to attract investment

developing the supply chain to deliver harder measures such as solid wall insulation, and prime the market to provide the coordinated installation services which will be necessary under Green Deal.
Twitter
Keep up to date with the Department by following us on Twitter (external link).
Media enquiries
Visit our newsroom contacts page for media enquiry contact details.
Published 8 March 2011