News story
Malaria: health advice for travellers
Public Health England (PHE) reminds travellers of the fatal risks of malaria.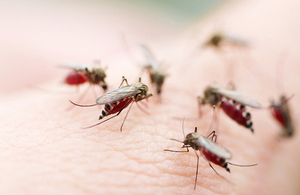 Latest figures from PHE have been published today (12 June 2015) which show an overall increase of 5.7% in imported malaria infections reported in the UK in 2014 (1,586) compared with 2013 (1,501).
There were 3 deaths from malaria reported in 2014 compared to 7 in 2013, all from falciparum malaria acquired in Nigeria. There is a small variation in the number of deaths from malaria in the UK every year and the total for 2014 is low compared to the annual average of 6 over the last 10 years.
Dr Hilary Kirkbride, head of the PHE's Travel and Migrant Health Section, said:
Malaria is an almost completely preventable but potentially fatal disease and it remains an important issue for UK travellers. In the UK, malaria predominantly affects the non UK born population and their families, particularly those from Africa and south Asia who are travelling to visit friends and relatives (VFRs) in their country of origin. This group are more likely to acquire malaria for a number of reasons, including not seeking or being unable to access appropriate medical advice before travel, or not perceiving themselves to be at risk because the destination is familiar to them.
The best way to prevent malaria is to follow the ABCD of malaria prevention:
be Aware
use Bite avoidance measures
take Chemoprophylaxis (preventive antimalarial tablets)
seek prompt Diagnosis if you develop a fever during or after travel
Dr Dipti Patel, Joint Director of the National Travel Health Network and Centre (NaTHNaC), said:
We strongly urge travellers going to countries where malaria is present to seek advice from their general practice, a specialist travel clinic or pharmacy about malaria prevention ideally 4 to 6 weeks before travel, but even if travelling at short notice it is not too late to get protected. Information on insect bite avoidance and malaria prevention for specific countries is available on the NaTHNaC website.
Professor Peter Chiodini, head of the PHE's Malaria Reference Laboratory, said:
With the summer holidays fast approaching, it is a timely reminder to all travellers going to countries where malaria is present to seek pre-travel advice about the appropriate measures to take to protect themselves, including preventive medicines. If you have any symptoms (usually flu-like or a fever), either while you are away or for up to a year after you return home, you must seek urgent medical help; malaria may cause severe complications and can be fatal.
Malaria can be a life threatening disease, which is caused by parasites that are transmitted to people through the bites of infected mosquitoes.
Read the latest malaria report and statistics.
A malaria leaflet for travellers as well as specific advice for those travelling overseas to visit friends and relatives is available on the PHE website. For more general information on malaria visit the NHS choices website.
The Malaria reference laboratory provides an integrated service for public health in relation to malaria. It combines reference and diagnostic parasitology of malaria with surveillance of all imported malaria reported in the UK, analysing the results and using these, together with wide consultation to develop national policy on prevention of imported malaria, which it then disseminates widely.
National Travel Health Network and Centre (NaTHNaC) is commissioned by Public Health England and hosted by University College London Hospitals NHS Foundation Trust. It works in partnership with the London School of Hygiene and Tropical Medicine, the Liverpool School of Tropical Medicine, the Hospital for Tropical Diseases, the Department of Health and Public Health England to achieve its objective of improving standards in travel medicine and advice.
Published 12 June 2015