Press release
Malaria cases fall across the UK
New malaria figures from PHE show an overall decrease of 18% in imported infections reported in the UK in 2012 compared with 2011.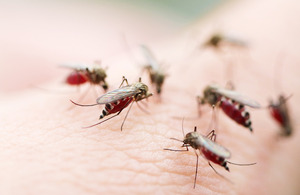 New figures from Public Health England (PHE) on World Malaria Day show an overall decrease of 18% in imported malaria infections reported in the UK in 2012 (1,378) compared with 2011 (1,677). Malaria remains however an important travel-associated infection, which particularly affects people travelling to visit friends and relatives, especially in Africa and Asia.
73% of malaria cases in 2012 (compared with 69% in 2011) were caused by the more serious form of malaria called Plasmodium falciparum. This high proportion of falciparum malaria reflects the fact that most malaria imported to the UK is acquired in Africa. The proportion due to vivax malaria (the type more commonly associated with Asia) has fallen back from a rise in recent years – to 271 cases reported in 2012 compared with 416 in 2011.
Trends in reported case numbers reflect a number of factors including global malaria patterns and UK traveller trends. However, more than 70% of malaria cases where reason for travel was known had travelled to visit friends and relatives and the majority of these had not taken appropriate preventive treatment. This pattern is similar to that seen in previous years showing that, while malaria prevention is important for all travellers to risk countries, greater effort is required to target preventive advice to this high risk group.
Professor Peter Chiodini, head of the PHE's Malaria Reference Laboratory, said: "Today is World Malaria Day which provides a timely reminder to anyone who is travelling to a country where malaria is present to seek pre-travel advice about appropriate malaria medication to protect themselves. Malaria is a medical emergency and severe complications can be fatal. If you have any symptoms (usually flu-like or a fever), either while you are away or once you return home, you must get immediate medical help."
Dr Jane Jones, head of the PHE's Travel and Migrant Health Section, said: "People living in the UK who were born in a country affected by malaria may incorrectly believe that they are 'immune' or that they cannot become seriously ill from malaria when they return to that country to visit friends and relatives. There is continuing evidence however that those going to visit friends and relatives in Africa or Asia are at particular risk, and it's important to stress that any partial protection they may have from being brought up in a country where malaria is common is quickly lost when living in the UK."
Dr Vanessa Field, Joint Director of the National Travel Health Network and Centre (NaTHNaC), said: "Travellers to countries where malaria is present should ideally seek advice from their general practitioner, specialist travel clinic or pharmacist about malaria prevention at least 6 to 8 weeks before they travel, but even if travelling at short notice it is still possible to get protected. Malaria prevention advice is available from NaTHNaC at www.nathnac.org in accordance with guidance from the Advisory Committee for Malaria Prevention for UK travellers.
"Malaria is a potentially fatal but almost completely preventable disease, which remains an important issue for UK travellers. A reduction in imported case numbers in 2012 is encouraging but preventive efforts remain important to keep the numbers going in the right direction."
Travellers should remember the ABC of malaria prevention; be Aware, use Bite avoidance measures and take Chemoprophylaxis (preventive tablets). You must take medication before, during and after your trip as well as anti-mosquito precautions while you are away to keep safe.
Notes to editors
For more advice on malaria prevention see Guidelines for Malaria Prevention in Travellers from the United Kingdom.

Members of the public should seek advice about their specific travel health needs from their GP surgery or local travel clinic. An information sheet on insect bite avoidance, updates on other travel health issues, and country specific health advice are available on the National Travel Health Network and Centre (NaTHNaC) website.

The Malaria Reference Laboratory provides an integrated service for public health in relation to malaria. It combines reference and diagnostic parasitology of malaria with surveillance of all imported malaria reported in the UK, analysing the results and using these, together with wide consultation to develop national policy on prevention of imported malaria, which it then disseminates widely.

Public Health England is a new executive agency of the Department of Health that took up its full responsibilities on 1 April 2013. PHE works with national and local government, industry and the NHS to protect and improve the nation's health and support healthier choices and will be addressing inequalities by focusing on removing barriers to good health. To find out more visit our website, follow us on Twitter @PHE_uk.
Public Health England Press Office
Tel: 0208 327 7901
infections-pressoffice@phe.gov.uk
http://www.gov.uk/phe
Out of hours telephone 0208 200 4400

Published 25 April 2013