Press release
Lord Livingston becomes new Trade Minister
Lord Livingston has today (10 December 2013) succeeded Lord Green as Trade and Investment Minister.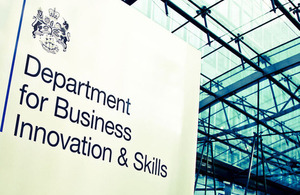 Ian Livingston will be Minister of State jointly at the Department for Business, Innovation and Skills and at the Foreign and Commonwealth Office following the retirement from government of Lord Green of Hurstpierpoint.
Lord Livingston, who is the outgoing Chief Executive of BT Group, will continue the work Lord Green has undertaken to help Britain compete in the global race; growing the UK's exports and attracting further investment from overseas.
He will report to both the Secretary of State for Business and the Foreign Secretary.
Prime Minister David Cameron said:
Ian Livingston is an outstanding business leader and it is a testament to the importance of this role that he has agreed to serve in the government in this capacity. I know that he will make an invaluable contribution to our plan to help secure Britain's long-term economic future, by helping to open new trade links and grow our exports.

Stephen Green has made a huge contribution to promoting trade and investment, leading the reform and rejuvenation of UK Trade and Investment, which now assists a significantly greater number of small and medium-sized businesses to export around the globe.

Our drive to compete in the global race has been aided immensely by his business acumen and his tireless work in promoting the best of Britain worldwide. I would like to thank him and wish him the very best as he retires from government.
Lord Livingston said:
It is an honour to start in my new role as Minister of State for Trade and Investment.

The UK has some of the best and most dynamic companies in the world and has one of the most open business environments for investment. Last week I joined the Prime Minister on his trade mission to China and it highlighted the real opportunities for the UK and its companies.

I am looking forward to the important work ahead, encouraging more UK firms to export and promoting this country as a world leading destination for inward investment.
Lord Green said:
I am proud to have served as Trade Minister for the past 3 years. This has been one of the most rewarding roles of my entire career.

I'm very pleased the Prime Minister decided to appoint Ian Livingston as my successor. He is an outstanding businessman and will be an outstanding Trade Minister to continue this work.
Lord Livingston was CEO of BT Group from 2008 until 2013. Over that period free cash flow tripled and BT has become one of the best performing European Telco stocks. Lord Livingston oversaw one of the fastest fibre rollout programmes in the world, invested in strengthening the company's global presence and launched a major new TV sports service.
Notes to editors
Having joined BT in 2002, Lord Livingston served on the BT Group Board as Group Finance Director and was CEO of BT Retail, its consumer and small business division, before becoming CEO of BT Group.

Prior to this, Lord Livingston was Group Finance Director at Dixons Group plc from the age of 32 making him the youngest FTSE 100 CFO by some distance. During his tenure, Dixons grew revenue and profits strongly and created the UK's first major internet IPO, Freeserve.

Lord Livingston has also worked for 3i plc, Bank of America and Arthur Andersen. He was previously a non executive director of Hilton Group plc and is currently a non executive director on the board of Celtic plc. He is a Chartered Accountant.

In the 2012 Autumn Statement, UKTI was awarded an additional £70 million for each of 2013 to 2014 and 2014 to 2015, enabling the recruitment of more international trade advisers around the country, expansion of existing services including the Trade Access Programme (TAP) and the Overseas Market Introduction Service (OMIS), and support to expand the range of assistance available to UK companies through overseas British chambers of commerce.

The government's economic policy objective is to achieve 'strong, sustainable and balanced growth that is more evenly shared across the country and between industries'. It set 4 ambitions in the 'Plan for Growth', published at Budget 2011:
to create the most competitive tax system in the G20
to make the UK the best place in Europe to start, finance and grow a business
to encourage investment and exports as a route to a more balanced economy
to create a more educated workforce that is the most flexible in Europe
Work is underway across government to achieve these ambitions, including progress on more than 250 measures as part of the Growth Review. Developing an Industrial Strategy gives new impetus to this work by providing businesses, investors and the public with more clarity about the long-term direction in which the government wants the economy to travel.
UK Trade and Investment (UKTI) is the government department that helps UK-based companies succeed in the global economy. We also help overseas companies bring their high quality investment to the UK's economy – acknowledged as Europe's best place from which to succeed in global business. UKTI offers expertise and contacts through its extensive network of specialists in the UK, and in British embassies and other diplomatic offices around the world. We provide companies with the tools they require to be competitive on the world stage. For more information on UKTI, visit www.ukti.gov.uk or visit the online newsroom at www.ukti.gov.uk/media.
Published 10 December 2013