London's first skyscraper given highest listed status
St James's Park Underground Station and the London Underground Headquarters receive Grade I listed status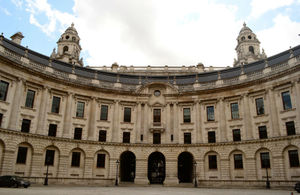 St James's Park Underground Station and the London Underground Headquarters it forms a part of today joined the top two per cent of listed buildings after receiving Grade I status.
Following a review of stations by English Heritage the site at 55, Broadway, Westminster, which was London's tallest office building when it opened in 1929, has been upgraded from Grade II to Grade I on account of its outstanding architectural interest.
John Penrose said:
"When this building opened it would have represented the height of sophistication and a move towards the development of modernism. I wonder just how many of the thousands of commuters that pass through the station every day are aware of the fantastic features all around them. From 1920 platform finishes to platform benches and the original timber kiosk it remains one of the most unaltered Underground stations on the network.
"The building is also a showcase of pre-Second World War British sculpture with all the major names of the period on show including Henry Moore's first public commission and what may be his only work to show the human figure in motion. Two sculptures of Night and Day by Jacob Epstein also provoked a fierce debate about whether artistic portrayals of nudity were permissible in a public space. English Heritage's expert advice to upgrade the listing for this site is based on the building's exceptional historic and architectural interest and I whole-heartedly agree with them."
Hannah Parham, Heritage Protection Advisor for English Heritage said:
"The daily commute can sometimes prove a dispiriting experience but the next time Londoners use St James's Park station, I would encourage them to stop and pause. St James's Park station and the London Underground Headquarters at 55 Broadway are truly jewels in London's architectural and historic crown.  Combined, the buildings provide unequivocal grade l listed quality.  Perhaps Charles Holden's finest undertaking - it is complex yet subtle, avoids bulk, offers cutting-edge and provoking sculpture, and captures the spirit of architectural innovation. It is rightly celebrated with the recognition of grade I status and English Heritage is delighted the Minister agrees."
Richard Parry, Strategy and Commercial Director for London Underground, said: 
"I am delighted to see London Underground's heritage celebrated in this way. Our heritage is a core part of our identity and we are proud of the work we have done to protect it over the years.
"Whilst we have embarked upon a massive upgrade of the Tube system, to provide for the growing numbers of people using it, it is vital also that we safeguard the historical features of our stations and buildings.
"I know everybody who visits 55 Broadway or uses St. James's Park Tube station will be delighted to hear that our headquarters have been recognised for their outstanding design."
Notes to Editors
A copy of the advice from English Heritage, including a detailed description and a full assessment is available from English Heritage on 020 7973 3294.
Press Enquiries: 020 7211 2210
Out of hours telephone pager no: 07699 751153
Public Enquiries: 020 7211 6000
Published 12 January 2011