Lloyd's building and 9,000BC settlement protected
Heritage from prehistoric to postmodern is given special status.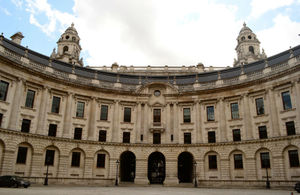 The iconic Lloyd's building in central London has been made a Grade I listed building by Heritage Minister John Penrose for its architectural innovation, historic interest and celebrated design.
It is one of two outstanding British heritage assets given protection today. Early Mesolithic settlement Star Carr near Scarborough, North Yorkshire, has also been made a scheduled monument in recognition of its rarity and archaeological importance.
"From the dawn of civilisation in this country to the white head of late 20th century technology, both these sites are incredibly important to Britain's heritage landscape," Mr Penrose said.
"The diversity of finds on offer at Star Carr and its history - which goes back to 9,000BC - are unequalled in British archaeology and it remains one of the most important Mesolithic sites in Europe. At the other end of the spectrum, the Lloyd's building designed by the Richard Rogers Partnership stands the test of time with its awe-inspiring futuristic design."
Both sites were awarded special status following advice from English Heritage. Roger Bowdler, Designation Director at English Heritage, said: "We are delighted that the Minister has endorsed our advice to list the landmark Lloyd's building at Grade l. Its listing at the highest grade is fitting recognition of the sheer splendour of Richard Rogers' heroic design. Its dramatic scale and visual dazzle, housing a hyper-efficient commercial complex, is universally recognised as one of the key buildings of the modern epoch.
"At Star Carr, in Yorkshire, we also find innovation - an internationally important Mesolithic site which contains what may be the earliest building in Britain. Extraordinarily rich in finds, the site sheds much light on the activity of our hunter-gatherer forbears and the early use of stone tools."
Further information
Published 20 December 2011