News story
Laying the foundation for more efficient future cities
Francis Maude visited Cardiff University to see a new Spatial Design Network Analysis tool and regeneration plans for Swansea High Street.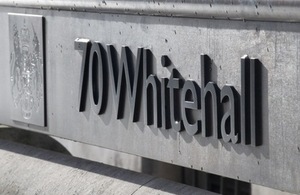 The Minister for the Cabinet Office met students and lecturers working on developing tools and designs to make sure that today's cities are fit for the future.
View photos of the trip.
Spatial Design Network Analysis (sDNA)
The pioneering sDNA tool was developed by Cardiff University's School of Planning and Geography and the University's flagship Sustainable Places Research Institute. It uses spatial design analysis to look at street networks and how these affect patterns of urban activity. Local authorities and architects are already using it to help understand how cities use land, and how this affects efficiency and residents' wellbeing.
Regenerating Swansea High Street
Students also showed off their regeneration exhibition of Swansea High Street. The strategy and design work was developed with Swansea City Council and is informing the way the historic High Street can be regenerated to serve today's business and retail needs.
The government's property strategy
Innovations like these will help inform the government's property strategy. This has already seen more than £1.25 billion raised in capital receipts in the past 3 years, with a further £5 billion of land and property to be released between 2015 and 2020.
Francis Maude said:
It is great to see the fascinating work that Cardiff University is doing to create efficient cities that best serve their communities and to hear about the regeneration of Swansea High Street. There are lessons here that many town centres across the country can learn from.

Efficiency is at the heart of this government's long-term economic plan. It's this approach which helped save hard-working taxpayers £10 billion last year alone. But we want to do more, including releasing more surplus properties that could be put to better use.

I'm interested in how analysis from initiatives like Cardiff University's sDNA tool could help my officials examine how our plans will shape the local environment in the future.
Alain Chiaradia, lecturer in Urban Design at the School of Planning & Geography said:
The sDNA tool helps drive better and more reliable evidence-based urban planning and design.

Through our work we have found that sDNA enables far more efficient and effective spatial planning analysis. The tool models low-cost "what if" scenarios providing a better understanding of the impacts on health and wealth before investments are made.

Another innovative element of the sDNA project has been combining sDNA software with off-the-shelf open data, and industry standards, to improve the analysis of spatial planning and design.
Published 7 March 2014