Press release
Koi herpesvirus disease outbreak confirmed in Bedfordshire
Koi herpesvirus (KHV) disease has been confirmed in carp (Cyprinus carpio) at Shuttleworth College Fish Farm, Bedfordshire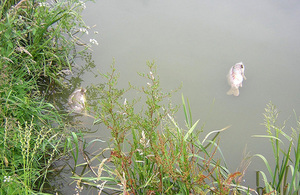 An outbreak of KHV disease has been confirmed at Shuttleworth College Fish Farm, Old Warden Park, Biggleswade, Bedfordshire.
The site is now subject to statutory controls to prevent the spread of the disease. The Fish Health Inspectorate (FHI) at Cefas, acting on behalf of Defra has issued a confirmed designation prohibiting the movement of fish to, from and within the fish farm facility. The farm manager contacted the Fish Health Inspectorate directly to report the mortality and initiate the disease investigation.
KHV has no implications for human health. It is nonetheless, a serious viral disease of fish, and is notifiable in the United Kingdom. KHV affects all varieties of common and ornamental carp (Cyprinus carpio) and can result in high rates of fish mortalities.
Clinical signs of KHV disease may include white or necrotic patches on the gills, rough patches on the skin, sloughing mucous and sunken eyes. These signs usually appear when water temperatures are between 16 and 28 degrees centigrade. Anyone noting deaths in carp or carp hybrids, with signs of disease similar to those above, or have suspicion of notifiable disease in any aquatic animal, should immediately contact the FHI.
Anyone who imports, keeps, fishes for, or retails carp (common and ornamental) and carp hybrids should take precautions to prevent the spread of KHV.
Additional notes
Cefas is an executive agency of the Department for Environment, Food and Rural Affairs (Defra). The Fish Health Inspectorate (FHI), based at Cefas' Weymouth laboratory, is dedicated to maintaining and improving fish and shellfish health in England and Wales. Its primary role is to act for Defra and Welsh Government (WG) in undertaking statutory and inspection duties resulting from the EU fish health regime and other national legislation in the area of fish and shellfish health. The FHI is responsible for health certification of fish and shellfish movements from other countries, and runs an enforcement programme aimed at preventing the illegal importation of these animals.
Koi herpesvirus (KHV) is a notifiable disease under The Aquatic Animal Health (England and Wales) Regulations 2009. Outbreaks of this disease have been subject to statutory control in GB since 2007.
Published 24 June 2016