Key buildings at RAF Northolt listed in 70th anniversary year of the Battle of Britain
Three buildings in operations during World War 2 at RAF Northolt listed at Grade II by Tourism and Heritage Minister John Penrose.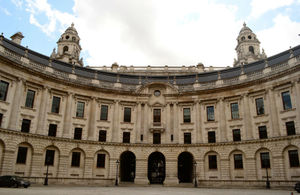 Three buildings at the heart of operations during the Second World War at RAF Northolt have been listed today at Grade II by Tourism and Heritage Minister John Penrose.
The buildings comprise a C-type hangar, former Squadron Watch office, and former 'Z' sector Operations Block. The hangar was used throughout the Second World War to house Churchill's personal aircraft in which he flew to many important meetings of the Allied leaders. The Watch office which also served as the Aircraft Readiness room during the Second World War had an undisputed role in the Battle of Britain and was the building from which RAF Northolt's pilots were scrambled.  And the Operations Block was the prototype of the 'Dowding System,' a method of communication allowing the command chain to communicate to intercept enemy aircraft, the first such system in the world.
The decision to list the buildings are on the basis of advice from English Heritage. Grade II listing means that the architectural merit of the buildings must be taken account of in any future applications to develop the site.
Secretary of State for Defence, Dr Liam Fox said:
"The nation has a duty to recognise the great sacrifices made by those serving in our Armed Forces. The bravery that was displayed during the Battle of Britain continues to inspire generations of Servicemen and the Government's decision to list these buildings will ensure the achievements of those who fought in the battle are never forgotten."
John Penrose said:
"As we celebrate the 70th anniversary of the Battle of Britain it seems entirely fitting to list these buildings which played such a pivotal role during the Second World War and beyond. Their national significance and historical importance merit the protection provided to them by listing and serve as a reminder of the great sacrifice, courage and determination showed by all those who worked at RAF Northolt during the war years."
Notes to Editors
Copies of the decision letters in each case are available from the DCMS press office on the number below.

The Battle of Britain took place between July 10 and October 31 1940. More information about the 70th anniversary can be found on the RAF's website.
Press Enquiries: 020 7211 2210
Out of hours telephone pager no: 07699 751153
Public Enquiries: 020 7211 6000
Published 28 October 2010