Government response
Justine Greening responds to news that over 4 million people have now fled Syria
International Development Secretary statement in response to latest figures from UNHCR.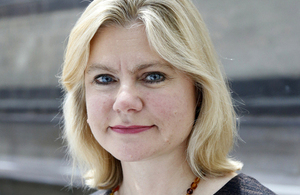 Responding to the latest figures from the UN's refugee agency, UNHCR, International Development Secretary Justine Greening said:
The unimaginable horrors in Syria have made refugees of more than four million Syrians, creating a tragedy for those affected and a crisis for the region as a whole. While civilians continue to be deliberately killed, hospitals targeted and towns besieged, the number of men, women and children in urgent need of help will keep climbing.

The continued violation of international law is shocking. That is why it is vital that all parties to this conflict end attacks on civilians, respect international humanitarian law, and allow full access for aid agencies.

The UK is leading the way, with its biggest ever response to a humanitarian crisis, but the rest of the world must now wake up to what is happening and step up with the new funding that is so desperately needed.

Despite the difficult conditions they face, the many refugees I have met on my visits to the region say they just want to remain close to their homes. Our aid is helping those people – families whose normal lives have been turned upside down – cope with their shattered lives and stay safe.
Published 9 July 2015