Junior doctors' contract offer
The firm contract offer is fairer for doctors and safer for doctors and patients.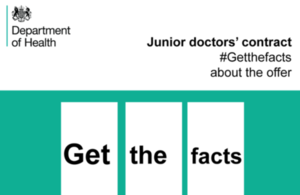 A firm contract offer for junior doctors has today, 4 November 2015, been published by the Department of Health and NHS Employers. The offer is fairer and safer for doctors and safer for patients and builds on the cast-iron guarantees that the government has already set out on pay, working hours and patient safety.
Health Secretary Jeremy Hunt has today written directly to all junior doctors in England confirming that no junior doctor will receive a pay cut compared to their current contract. Around three quarters of junior doctors moving to the new contract will see an increase in pay with the remainder getting pay protection.
The Department of Health continues to urge the doctors' trade union, the British Medical Association (BMA), to return to the table and negotiate on the detail to secure a fair, safe deal for doctors and patients.
Health Secretary Jeremy Hunt said:
I'm completely committed to the values of the NHS – the same values that encourage aspiring doctors to take up a career in medicine.

We again make the guarantee that no junior doctor working within the current limits will see a pay cut compared to their current contract. As we have consistently said, we will reduce the maximum number of hours that can be worked in any one week and are putting in place better safeguards, meaning the firm offer gives the best protection junior doctors have ever had against working long, unsafe hours.

Our proposals offer better basic pay with increases based on responsibility instead of time served, a shorter working week and improved patient safety. I appeal to the BMA to do the right thing and come back to the table to negotiate for its members.
Alongside the changes to the contract, the government is also announcing plans to better support doctors to raise concerns if employers breach limits on safe working hours. Following work with the Care Quality Commission (CQC), the working hours and the service delivery of junior doctors will be included within its inspection regime on how trusts manage their medical workforce to deliver safe quality care for patients.
Where doctors are asked to work in conditions they believe are unsafe, including being asked to work patterns that put patient safety at risk, they will use the reporting mechanisms available to them to raise the issue and this data will then be available for the CQC to use during inspections.
The new contract will be implemented next August for newly qualified junior doctors and those changing their contracts of employment as they advance through training or change specialism.
The government is clear that it will not remove this timetable for putting in place a new contract. This is because the BMA agreed as far back as 2008 that changes were needed to the current contract, yet since it walked away from negotiations in 2014 has continually refused to re-enter talks. We are clear that there is an imperative to reform the contract – and so we are setting out a clear timetable for implementation.
Published 4 November 2015