John Penrose praises National Heritage List for England
Heritage Minister speaks at launch of national listed buildings database and 4-year plan.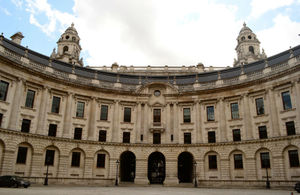 Heritage Minister speaks at launch of national listed buildings database and 4-year plan.
The new List for England brings together the country's 400,000 listed buildings, registered parks, gardens and battlefields, protected shipwrecks and scheduled monuments in a simple, publicly-accessible database.  Anyone can now go online to search for heritage by postcode, by date, by grade or by any category from listed building to listed lamp-post, from scheduled coal mines to castles.
John Penrose said:
"Our built heritage - which ranges from castles and cathedrals to troughs and telephone boxes - is one of the really great things about this country, and one of the reasons that people from all around the world most often cite for wanting to come here.  The information English Heritage compiles and makes available is not only interesting in itself but vital as a way of helping people develop a sense of history and identity in their own communities, making each place different from the next. I am delighted that today sees the launch of the National Heritage List for England which makes information about over a half a million designated places easily accessible to everyone."
Roadmap for the future
English Heritage also unveiled their corporate plan running up to 2014-15, setting out their priorities for safeguarding England's vulnerable historic environment. Some of their key areas include:
Marine and coastal heritage
20th century heritage
Historic towns and suburbs
Rescuing heritage at risk
Supporting local authorities and building local capacity
Ensuring heritage protection continues under changes to planning system
Supporting the sale of public assets and encouraging their sympathetic re-use
Safeguarding heritage amid increasing development pressures
Tackling heritage crime
Understanding the energy performance of historic buildings and help homeowners adapt and "green up" their properties in the most effective way
Working with communities
Baroness Andrews, Chair of English Heritage, said:
"Our main task is to identify and protect the most significant physical remains of our nation's history and to make them even more accessible and even more widely appreciated. This is a huge challenge. For our part, we will be making considerable investment in our major properties which will hugely enhance people's appreciation of these places and their part in our nation's story.
"But overall, despite our best efforts, the state of the nation's heritage is fragile, and we cannot do everything. Nor should we. As public funding diminishes, it is imperative that we concentrate on what only we can do. Ours is a national responsibility to create and apply national standards. It is important that we support and collaborate with others to promote the great cultural legacy we all share. We need to provide support for local communities and private citizens to champion their local heritage. The new National Heritage List will make a huge difference here."
A video of John Penrose's full speech at the English Heritage event will be available shortly.
Further information
Published 24 May 2011