John Collington to head government drive to cut procurement costs
John Collington, the Home Office's Group Commercial Director, will be the new head of procurement in the Efficiency and Reform Group.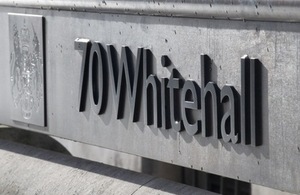 Minister for the Cabinet Office Francis Maude has today announced that John Collington, the Home Office's Group Commercial Director, will become the new head of procurement in the Efficiency and Reform Group. Mr Collington will spearhead a new cross-government approach to procurement, allowing government to use its scale to ensure it always gets the best value for money. This programme will be part of the new Efficiency and Reform Group (ERG) which has been set up to mobilise expertise from across government to drive fundamental reform and improve efficiency across Whitehall.
Speaking about the appointment, Mr Maude, who co-chairs the Efficiency and Reform Board, said:
We need to make sure that the government saves every penny it can and this means being completely committed to taking internal costs out of government wherever possible.

As in any big complex organisation, there are some things that government must mandate centrally.  By giving a really big push to the centralisation of its procurement mandate we can make sure we take advantage of government's buying power to drive down the costs of goods and services.

The work that John Collington will lead from the Efficiency and Reform Group will help all departments across government address the pressing demands of necessary spending reductions. He brings with him considerable commercial experience and expertise to the role, and the necessary drive to take forward important and necessary reforms in government's procurement activity.
Mr Collington said:
There has never been a greater need for smarter, aggregated approaches to government spending on commodities. Financial challenges faced by departments means it is imperative solutions are acted upon quickly. Pockets of best practice already exist within Whitehall, but so much more can be achieved. I am looking forward to working with commercial colleagues across departments to deliver the necessary reforms, building on the current best practices, and realising the full potential of the programme.
Notes to editors
The ERG Head of  Procurement  is a new position based within the Efficiency and Reform Group in the Cabinet Office and will report to the Chief Operating Officer.
John Collington will take on his role with effect from 1 September 2010. He joined the Home Office in January 2007 as Group Commercial Director with responsibility for transforming how the department manages its annual £2.4 billion expenditure on goods and services. Before joining the Home Office John spent 23 years in the private sector in a number of senior commercial and supply chain roles operating on a global basis.
Published 11 August 2010