Jeremy Browne visits Osaka
Minister visits SHARP factory, meets with Japanese investors, and discusses higher education links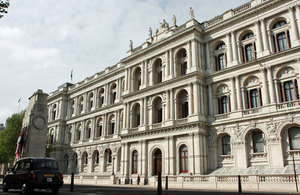 Minister Browne shaking hands with Mr Hamano of Sharp
Foreign Office Minister Jeremy Browne concluded his visit to Japan with a visit to its commercial heart on 10 and 11 September.
Having travelled to Osaka by shinkansen, Minister Browne visited Sharp's state-of-the-art solar-cell plant. He was welcomed by Sharp's Executive Vice-President Mr Toshishige Hamano, whom he thanked for Sharp's continued interest in investing in the UK, especially their recent investment in a solar-module assembly facility in Wrexham, Wales. He also explained the UK government's low-carbon vision.
Later on 10 September, over dinner, Minister Browne met with senior representatives of some of the major western-Japanese investors in the UK. He thanked those present for the substantial contribution that they continue to make to the UK economy, emphasising that businesses in western Japan account for a big share of Japanese investment in the UK. He reiterated the UK coalition government's commitment to do all that it can to make the UK an attractive environment for investment. The Minister also heard from investors about their experiences of doing business in the UK and discussed the opportunities and challenges of doing business with emerging markets, including China.
Minister Browne concluded his visit to Japan on 11 September with a discussion with leaders from a number of Japanese universities, as well as those involved in research and innovation in industry. He explained that the UK remained focussed on developing high-quality educational links that could lead to further improving research and investment conditions between the UK and Japan. The event was organised by the British Council as a follow up to the Foreign Secretary's visit to Japan in July, and his announcement of a programme to enable university leaders in both countries to share best practice and develop strategic partnerships.
Before leaving for China Minister Browne summarised his visit and spoke about UK-Japan relations. You can watch the video below.
Published 13 September 2010