Jeremy Browne breakfasts with business
Minister emphasises that UK government places prosperity at the heart of its foreign policy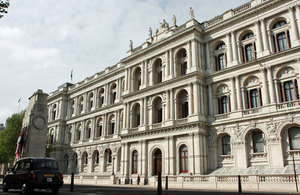 Minister Browne emphasised the private sector's role
Over breakfast, Foreign Office Minister Jeremy Browne met with members of the British Chamber of Commerce (BCCJ) and other representatives of British business in Japan on 10 September.
Minister Browne set out the UK government's economic policy. He described how it is working to tackle the budget deficit while also creating an environment that encourages enterprise and business.
Minister Browne stressed the important role that Japan played in the UK's economy. He was told of the opportunities and the challenges which businesses faced, in Japan and in the UK, and reiterated the government's commitment to helping British companies take advantage of the opportunities. He also commented on the huge potential benefits and increased trade flows for both UK and Japanese businesses which could be created through the removal of remaining barriers to trade. He noted that, though Government can create the right climate for business, it's actually then private sector that creates the wealth and the jobs.
Published 10 September 2010