Japanese earthquake update - Government response
At 1446hrs on Friday 11 March an earthquake with a magnitude of 9.0 struck 250 miles (400km) from Tokyo. There continues to be a risk of earthquakes, aftershocks and tsunamis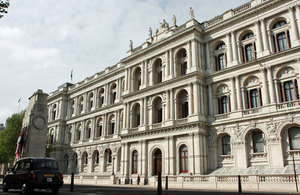 Government response
The UK Search and Rescue team have set up their base in a school in Sumita, north Japan, near Ofunato, along with teams from the US. This morning at 0600 local time the full team was deployed to the centre of the disaster zone in Ofunato. The team cleared a large industrial district and residential area. Although bodies were recovered, no survivors have been found so far. The team will now be tasked overnight with new operations.
The British Ambassador and a team of consular staff are in Sendai to assess the level of damage and to help locate British nationals. They have been visiting reception centres, hospitals and locations affected by the earthquake and tsunami.
The British Embassy has established a 24 hour Consular Response Centre in Sendai at the ANA Holiday Inn.

Three specialist UK consular teams have arrived in Japan from London and the region. 49 additional staff are now in Japan.

Embassy staff and British volunteers are working round the clock to get information to our citizens about the situation and working closely with Japanese officials. Embassy response teams at Tokyo's Haneda and Narita airports are assisting British nationals and liaising with airlines. The British Embassy in Tokyo has has extended its opening hours. Emergency calls out of hours to our Embassy are being re-directed to the Foreign Office helpline.
Travel advice has been updated and recommends against all non-essential travel to Tokyo and North East Japan. Please keep checking our website.
The FCO's emergency helpline has taken more than 5480 calls. There is currently no waiting time.
We have offered humanitarian assistance, Disaster Victim Identification and additional nuclear expertise to the Japanese Government.
Nuclear
A second meeting of the Scientific Advisory Group for Emergencies is taking place today. SAGE contains experts from within Government and external experts from the National Nuclear Laboratory and Academia.
Sir John Beddington, UK Chief Scientific adviser, briefed members of the British Community in Japan earlier this morning via a video teleconference with our embassy in Tokyo.
We are concerned about latest developments and continue to follow them closely. Following the explosion at Fukushima nuclear plant, the Japanese government has advised all people between 20 and 30kms of the plant to stay inside and keep windows closed. The 20km exclusion zone remains in place.
The UK Government advises all British citizens to follow this guidance. The Chief Scientific Adviser made clear this morning that the Japanese Government's advice is entirely proportionate and appropriate to the risk.
It is wholly wrong to compare the situation to Chernobyl, which emitted a radioactive cloud 30,000 feet into the air for a long period of time. In the reasonable worst case scenario at Fukushima, a plume would only be emitted to a maximum height of 500m so any radioactive cloud would land very close to the reactor. A 20km exclusion zone and a further 10km zone where residents are advised to stay indoors would be entirely appropriate for minimising health effects from direct radiation exposure.
Our travel advice is kept under constant review, and is directly informed by the best scientific advice.
Current assessments suggest that the situation at the Fukushima nuclear plant in Japan is extremely unlikely to pose an environmental risk to the UK, but Defra is continuing to monitor developments.
Political
Foreign Office Minister Jeremy Browne will chair a sixth COBR on Tuesday afternoon to coordinate the cross-Government response.
The Foreign Secretary today met the Japanese Foreign Minister in the margins of the G8 meeting in Paris. The Foreign Secretary expressed his condolences and said the UK stood ready to offer more assistance to Japan.
Japan was the first item to be discussed at today's Cabinet. Ministers were briefed by Foreign Office Minister, Jeremy Browne, and Chief Scientific Advisor, Sir John Beddington.
Consular
This is a major disaster which has claimed many lives and injured many others. As yet there are no confirmed British fatalities, but we have severe concerns about a number of British nationals.
We urge people to get in touch on our hotline number (020 7008 0000) to let us know of loved ones who are missing or known to be safe.
The immediate priority for the Japanese authorities is the emergency response. In these unpredictable circumstances, it is likely to take some time to formally identify those who may have lost their lives or been injured and to notify next of kin.
Published 16 March 2011