Foreign Secretary meets Japanese Foreign Minister
Foreign Secretary William Hague talked of "important and productive" discussions following his meeting with Japanese Foreign Minister Matsumoto.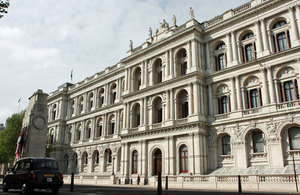 Speaking after the meeting the Foreign Secretary said:
"Good afternoon ladies and gentlemen it is a great pleasure to welcome Foreign Minister Matsumoto to the United Kingdom. It is an important time for allies like Britain and Japan to meet, given the immense challenges we face in world affairs and in the Middle East in particular where democracies like ours must come to the aid of those seeking political and economic freedoms. And this is on top of the vital need to achieve a two state solution to the Israeli Palestinian conflict, to prevent Iranian nuclear proliferation and to continue the hard fight to disrupt international terrorism, even after the death of Osama bin Laden.
And we welcome the fact that on all of these issues, as in so many areas of foreign policy, Japan is a like minded partner and a positive force in international peace and security and I repeat our support again today for an enlarged United Nations Security Council with a permanent seat for Japan. So I thank Minister Matsumoto for coming for what I hope is the first of many visits to London. Japan is unquestionably our closest partner in Asia and our Government hopes to build on the friendship and the close ties between our two countries in the coming years.
We also feel great friendship and affinity with the Japanese people in this hour of tragedy after the earthquake and the tsunami and we have great admiration for the resilience and dignity and courage of the people of Japan. We have discussed the latest situation at the Fukushima nuclear power plant and the actions taken by the Japanese authorities. The United Kingdom has provided radiological equipment and we've also offered to send a team of experts who specialise in shoreline monitoring and sampling. We're ready to provide further assistance in areas of British expertise in the months ahead.
We will also do all we can to help speed Japan's recovery including as we have discussed this afternoon strong support for Japan to enter an economic integration agreement with the European Union. At the last European Council our Prime Minister led the calls for the EU to open negotiations on this. The removal of tariff and non tariff barriers could deliver over forty billion Euros of additional European exports to Japan and more than fifty billion Euros of additional exports from Japan to the European Union.
We have also been discussing a wide range of international issues, including looking ahead to the Rome meeting of the Contact Group on Libya. We must support the people of Libya in their aspiration to be rid of a dictator. As long as Gaddafi continues murderous attacks on his people then the concerted international diplomatic military and economic pressure must be intensified and time is not on the side of Gaddafi and we welcome Japan's participation in the Contact Group.
We also have common hopes for peace and stability on the Korean peninsula and in China playing a highly responsible international role on that issue and so many other issues.
So these were important and productive discussions this afternoon and I am determined that the close and effective cooperation between the United Kingdom and Japan will continue and will be intensified in the months and years ahead."
Published 3 May 2011