Foreign Office update on Japan earthquake and tsunami warnings
The Foreign and Commonwealth Office advises against all non-essential travel to Tokyo and the North East of Japan.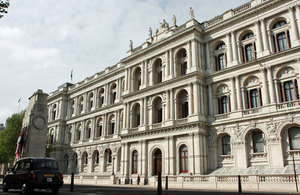 An earthquake measuring 8.9 on the Richter scale struck 250 miles (400km) from Tokyo at 1446 local time today. There continues to be a risk of aftershock and tsunamis across the Pacific region. The Japanese authorities have issued a warning for people to stay away from low-lying coastal areas.
Infrastructure damage is widespread. North-eastern Japan has been hardest hit. Sendai airport is flooded; Over 7 million households are without electricity. 11 nuclear reactors at four different power stations have stopped operating in Miyagi and Fukushima where 2,000 residents have urged to evacuate. There is severe disruption to public transport, airports and road networks across Tokyo and northern Japan.
There continues to be a risk of aftershocks and tsunamis throughout the Asia Pacific region. The nature of the disaster means that the threat of a tsunami is changing regularly. The FCO is endeavouring to provide information which is as up to date as possible, but people in the region are urged to check the regular threat updates on the National Oceanic and Atmospheric Administration website - www.NOAA.gov - and the Pacific Tsunami Warning Centre http://ptwc.weather.gov/
Casualties
This is a major disaster which will as a whole claim many lives and injure many others. There are no reports of British casualties at this time. However, there are some thousands of British residents living or travelling in Japan at any one time. The immediate priority for the Japanese authorities is the emergency response. In these unpredictable circumstances, it is likely to take some time to formally identify those who have lost their lives and to notify next of kin.
British Government response
The Foreign Secretary chaired a meeting of COBR this morning and Foreign Office Minister Jeremy Browne chaired a further COBR this afternoon.

The Foreign Secretary has spoken to the Japanese Foreign Minister this afternoon to express his deep sympathy for the loss of life. He offered the Japanese any assistance the UK could provide, and also asked for any information that the Japanese had in identifying possible British nationals caught up in the disaster.
Consular
The Foreign Office has established a crisis unit and set up a helpline for UK nationals in Japan and their relatives back home. That number is +44(0)207 008 0000. So far, we have taken more than 400 phone calls.

We are sending an eight-strong specialist consular response team from Hong Kong to Japan, which will arrive in Tokyo on Saturday 12 March to supplement our Embassy staff.

Further specialist consular response teams are on stand-by in London and the United States to respond to the crisis in Japan and the wider Pacific.

Our Embassy and Consular staff across Japan are in touch with local authorities and making contact with British Nationals to provide consular assistance.

Our posts around the Pacific region are on high alert for an immediate consular response to a tsunami.
Humanitarian
DFID activated their humanitarian operations room very early this morning.

The International Development Secretary this morning met members of the British International Search and Rescue team who have just returned from Christchurch and they stand ready to deploy to Japan if required.

We stand ready to assist countries affected, should that be needed. A team in DFID are monitoring the situation and are closely tracking data from the Pacific Tsunami Warning Centre in Hawaii and the US Geological Survey closely. We are in close contact with the Red Cross and UN OCHA, Japan, US, Australia and others in the region.
Safety of nuclear power stations
The Health and Safety Executive is in contact with the International Atomic Energy Association (IAEA) and is monitoring the situation in Japan.
Published 11 March 2011