Government response to Japan earthquake
Foreign Office Minister Jeremy Browne has updated Parliament on the Government response to the earthquake in Japan.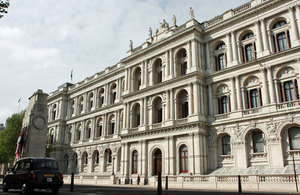 In a written statement to Parliament the Foreign Office Minister said:
I would like to update the House on the Government's response to the earthquake and tsunami which struck Japan on 11 March, and the consequent events at the Fukushima Dai-Ichi nuclear plant.
In doing so, I wish to express our profound sympathy to the Japanese government and people for the appalling loss of life in the disaster, and to pay tribute to the courage and resilience of the Japanese people.
In the immediate aftermath of the disaster we set up an emergency helpline for those concerned about British nationals in the affected areas. As of 27 March, we have received over 9000 calls to our helpline and can confirm that some 970 people reported to our missing persons hotline have been confirmed safe. There are to date no confirmed British fatalities. We continue to work to locate British nationals whom we have been unable to contact. There are now a small number about whom we remain very concerned. We are making every effort to track them down. It is important to stress that in these difficult circumstances, it is likely to take some time for the Japanese authorities formally to identify those who may have lost their lives or been injured and to notify next of kin.
Within 48 hours of the earthquake and tsunami, our Ambassador to Japan led the first British team deployed to Sendai, one of the main cities affected. In the following days, we deployed over 60 specialist consular staff drawn from across the FCO's global network to north east Japan to provide consular assistance and established a 24 hour consular response centre in Sendai. Our rapid deployment teams visited reception centres, hospitals and other locations to trace British nationals. They assisted more than 170 British nationals.
We reinforced our Embassy in Tokyo, which worked around the clock on the crisis response including the provision of consular assistance to those in need. We stationed staff at both of Tokyo's airports, provided consular help at our Consulate-General in Osaka, and staffed a temporary desk at Kansai International Airport. We continue to provide assistance from our Embassy in Tokyo and our Consulate in Osaka.
In light of the severity of the disaster, the Government decided to provide a higher level of consular assistance and support for those directly affected. This included help with transport out of the immediate danger zone, from Sendai to Tokyo, financial support for people who needed essentials such as food and clothing, telephone calls home and accommodation in Tokyo. This support was delivered by the FCO's consular teams on the ground in north east Japan and Tokyo. We supplemented the available commercial capacity with charter flights to help those British nationals leave Japan who wished to do so.
The Government is also providing humanitarian assistance to supplement the efforts of the Japanese government, and stands ready to do more. A 63-strong DFID-organised Search and Rescue Team arrived in Japan on 13 March and made a significant contribution to the Japanese recovery operation in the affected area of Ofunato. The UK rescue team and medical advisers worked alongside US rescue workers and together cleared a large industrial district and residential area. The team returned safely on 19 March. In response to a Japanese request, we are providing 100 tonnes of bottled water to Mito City in Ibaraki Prefecture, one of the worst affected regions, which is hosting evacuees from Fukushima. We have also offered other forms of support to the Japanese government including nuclear expertise. Through the Department for Energy and Climate Change the British nuclear industry has also provided radiological equipment to assist the Japanese as they work to bring the situation at the Fukushima nuclear plant under control.
Events at the Fukushima Dai-Ichi nuclear plant have been of serious concern. On Thursday 17 March, we advised British nationals currently in Tokyo and north east Japan to consider leaving the area. We also joined the US in advising nationals to remain outside a broader 80km zone around Fukushima. As a precautionary measure, we also began issuing iodine tablets to British nationals from locations in Sendai, Niigata and Tokyo. We are now distributing iodine tablets solely from our Embassy in Tokyo. We have explained the circumstances in which people should take this medicine, who are the priority recipients (children and pregnant and breastfeeding women), and how we will advise people further on this if the situation changes.
The Government Chief Scientific Advisor (CSA) and the Scientific Advisory Group in Emergencies (SAGE) have been engaged in detailed scenario planning for dealing with the ongoing events and we have contingency plans in place. The CSA has briefed the British community in Japan three times by telephone conference. Even in a worst case scenario, SAGE's advice is that the risks to human health beyond the exclusion zone set by the Japanese authorities could be managed by precautionary measures, in particular staying indoors to avoid exposure.
We continue to update our Travel Advice to advise and inform British nationals in Japan as the situation evolves.
We in Britain will continue to do all we can to speed Japan's recovery from the earthquake and tsunami. Europe has made that same pledge. That is why the Government believes that one of our highest priorities must be to invite Japan to enter into a free trade agreement with the EU. At the European Council on 25 March the Prime Minister led calls for the EU to open negotiations for a Free Trade Agreement (FTA) with Japan, subject to Japanese movement on non-tariff barriers. An FTA could boost Japan's trade with the EU by €54 billion and EU trade by €43 billion and would send a strong signal of EU support for Japan.
Published 30 March 2011