News story
It's time to apply for 2015 Basic Payment Scheme
Start your application as soon as you receive your pre-populated form.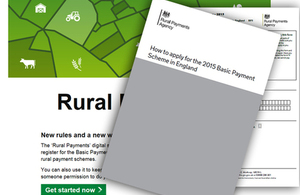 Farmers and agents are advised to start their Basic Payment Scheme (BPS) application as soon as they receive their pre-populated forms.
Forms started going out from the donotreply@ruralpayments.service.gov.uk email on 12 April and are being sent initially to everyone who has registered on the Rural Payments system.
All farmers and agents can read the electronic guidance on GOV.UK If a farmer has fully empowered an agent to act on their behalf, all communications will go direct to the agent.
Anyone wanting more help can call the RPA helpline on 03000 200 301 or go to one of the RPA's 50 support centres. Ten mobile support centres are also visiting remote areas to help farmers. Farmers who still require help to register or more detailed support with their application - together with agents who need to make five or more claims – need to make an appointment at a support centre by calling 03000 200 301.
Map packs have now been sent to around 25,000 farmers and continue to be issued. Anyone who has not yet received a pack, and has not had an up-to-date map of their land in the past six months, will receive their pack soon. If it has not been received by early May farmers should call the Rural Payments helpline.
The deadline for the RPA to receive forms for entitlement transfers has been extended to midnight on 15 June 2015. RLE1 forms to do this are available on GOV.UK/rpa/bps.
New and young farmers
New and young farmers can start the process to qualify for BPS entitlements under the 'national reserve'. To apply for entitlements, or the new young farmer payment, farmers must send a completed 'Accountant or Solicitor Certificate to confirm new or young farmer status' to the RPA by the 2015 claim deadline of midnight 15 June. An accountant or solicitor will need to fill it in. The forms are available on GOV.UK.
Environmental Stewardship and English Woodlands Grants
Farmers and land managers who need to make a claim under existing agri-environment or woodland grant schemes must do so by 15 June. Natural England and the Forestry Commission will shortly issue guidance to help customers with their claim. Farmers and land managers are urged to submit their claims as early as possible and to contact Natural England or the Forestry Commission if they need any help.
Published 14 April 2015