Improving services for motorists
Motoring services such as driving tests and goods vehicle testing are going to be provided by a single agency.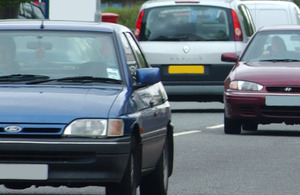 Motorists and businesses will benefit from more convenient and cost effective motoring services - such as driving tests and goods vehicle testing - under changes announced today (20 June 2013) by Roads Minister Stephen Hammond.
The services currently provided by the Driving Standards Agency (DSA) and the Vehicle Operator Services Agency (VOSA) will be brought together into a single agency. This will allow for the delivery of the same high quality testing and standards services to motorists and businesses, but with greater efficiency. The DSA and VOSA are already undertaking work to make testing more flexible and convenient for customers and this merger will allow them to explore opportunities to extend this in the future. These services will be delivered by the single agency in 2014. A transitional board, under the leadership of VOSA Chief Executive Alastair Peoples, who will head the agency, will start work next month to determine the structure of the organisation.
Stephen Hammond said:
We need to make sure that we continue to keep pace with customers' needs and deliver services in a way which is both convenient and cost effective.

These changes will put customers at the heart of the services they rely on and allow for a more coherent approach to service delivery. By bringing testing and standards services into a single organisation we will make life easier for customers and potentially reduce the fees we charge.

Staff at the DSA and VOSA do a great job in delivering for customers every day and we will work closely with them to support them through these changes.
Customers should be reassured that the same high quality service delivery will continue throughout the transition period.
This announcement follows the consultation on the motoring services strategy which ran from 13 December 2012 to 7 March 2013. The strategy proposed rationalising the roles and numbers of agencies to provide an improved and more efficient delivery of motoring services to customers. Respondents to the consultation were generally supportive of this proposal, recognising the benefits that such a move would bring but were keen to protect the quality of services.
A summary of responses to the consultation has been published by the department. Decisions on the other proposals detailed in the motoring services strategy, will be announced in due course.
Related documents
Notes to editors
Alastair Peoples is Chief Executive of VOSA. Rosemary Thew, the DSA chief executive, will be leaving the agency at the end of June.
Roads media enquiries
Media enquiries 020 7944 3021
Out of hours media enquiries 020 7944 4292
Switchboard 0300 330 3000
Published 20 June 2013