News story
Hugo Swire: "The time is right to lift sanctions on Burma"
Foreign Office Minister Hugo Swire has welcomed the decision to lift sanctions on Burma while retaining the arms embargo.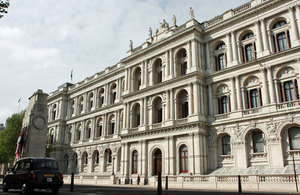 Speaking in the House of Commons today, Minister for Asia Hugo Swire said:
Human rights will always remain at the heart of our policy on Burma; we will continue to raise our concerns on human rights and ethnic conflict with the Burmese government. We judge that the time is right to lift EU sanctions: this judgement, supported by Aung Sang Suu Kyi, is that the remaining challenges are now better addressed with deeper engagement.
Hugo Swire also welcomed the announcement by the Burmese government of the release of a number of political prisoners saying:
We have to recognise the huge progress made in Burma over the past two years: credible by-elections, initial ceasefire agreements with the majority of ethnic groups; enhanced freedom of expression and the release of many political prisoners.
I was pleased to hear today that more of the remaining political prisoners will be released, but I want to be clear that even one political prisoner is one too many and we will continue to urge the Burmese government to fulfil its promises to deliver human rights to the Burmese people.
Further information
Visit our UK in Burma website pages
Published 23 April 2013