Press release
Hugo Swire reaffirms relationships with Latin America
Foreign Office Minister Hugo Swire visited Costa Rica, Guatemala & Colombia this week to expand and deepen UK's relationships in the region.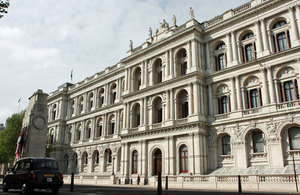 Hugo Swire visited Costa Rica and Colombia this week, following recent elections in both countries. He met the new administration in Costa Rica and renewed ties with President Santos' re-elected government in Colombia. He also visited Guatemala, where he held talks with President Otto Perez Molina.
The Minister met representatives of UK firms in each country, to support their investment and export efforts and boost jobs and growth back in the UK. He promoted British expertise in sectors from energy to agricultural technology, and lobbied on important market access issues. He also discussed important shared security challenges, not least our cooperation with Colombia in tackling the illegal drugs trade.
Following the Foreign Secretary's hosting of this month's 'Ending Sexual Violence in Conflict' Summit, Mr Swire also saw first-hand the Embassy-supported project "Never Again" in Guatemala, which works particularly with indigenous communities to understand the causes and consequences of sexual violence. He visited a people trafficking project in Costa Rica, and discussed Colombia's progress both on human rights and the peace process.
Mr Swire said:
My visit to Costa Rica, Guatemala and Colombia is part of the UK's broader effort to expand and deepen our relationships across South and Central America. These are all countries with which we share rich historical links. But we also have important shared interests today - in developing our bilateral trade, working together on countering illegal narcotics, and tackling regional instability.

It is particularly important for the UK that so many countries across the region share our commitment to democracy. Recent elections have highlighted this: I was delighted to meet the new government in Costa Rica, as well as the newly re-elected administration in Colombia.

And there are real opportunities for the UK to strengthen further our commercial ties. In 2013, Costa Rica grew by 3.5%, Guatemala by 3.5% and Colombia by 4.3% - I was impressed by the number and range of UK businesses already in the market who told me about the potential in the region. I was delighted also to promote the commercial opportunities for Latin American business in the Falklands, joined briefly by Falklands MLA Dr. Barry Elsby.

There is equally scope to expand our cultural links, which is why I was particularly pleased to meet new Chevening scholars in Costa Rica and Colombia who will commence their studies in the UK later this year. The Chevening scholarship programme, which turns thirty this year, is unique in its ability to build lasting friendships between the UK and future leaders across the world and I hope to see its influence grow even more in the coming years.
Mr Swire leaves Colombia today after five days in Latin America. As well as discussing regional issues, including security, defence, poverty and human rights, the Minister also raised the range of international challenges faced today, including Iraq and Syria.
Further information
Follow Foreign Office Minister Hugo Swire on twitter @HugoSwire
Follow the Foreign Office on twitter @foreignoffice
Follow the Foreign Office on facebook and Google+
Published 27 June 2014