Press release
Hugo Swire comments on martial law in Thailand
FCO Minister of State for Asia, Hugo Swire, has expressed his concern at the latest developments in Thailand.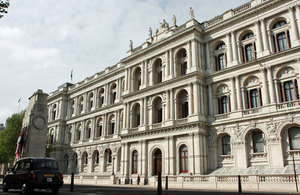 He said:
Today the Royal Thai Army has imposed martial law across Thailand. The Army has stated that this is not a coup and the action has been taken to restore peace and order. We expect them to remain true to their word. I call on the military to act in accordance with international human rights standards and the rule of law, and respect democratic principles and institutions.

We continue to follow the situation in Thailand very closely and remain concerned by the ongoing political instability. What is required now is a period of calm to allow the democratic process to proceed. The aim should be for all sides to work together to enable early elections to establish a fully functioning government with democratic legitimacy.

We are monitoring the situation on the ground carefully and, as always, we recommend those in Thailand, or those thinking of travelling to Thailand, check the FCO's travel advice, which is kept constantly updated.
Further information
Follow Foreign Office Minister Hugo Swire on twitter @HugoSwire
Follow the Foreign Office on twitter @foreignoffice
Follow the Foreign Office on facebook and Google+
Published 20 May 2014