Press release
House building continues to climb
Latest statistics show house building in England is up by over a fifth compared to last year.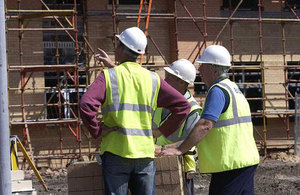 More homes are being built thanks to the government's action to help homebuyers and fix the broken housing market, Housing and Planning Minister Brandon Lewis said today (21 August 2014).
The latest statistics published today show 36,230 new housing starts in England between April and June, an increase of 18% on the same quarter last year.
It brings the total number of starts over the last 12 months to 137,780, a 22% increase on the previous year and the highest level of house building since 2007.
Mr Lewis said today's figures are further evidence that the government's long-term economic plan to improve the housing market is working.
Almost 40,000 households have bought a home through Help to Buy, with over 80% of sales going to first time buyers purchasing new build homes. The direct result is a new generation of homeowners and a 34% increase in private house building during the first year of the scheme.
At the same time the construction sector has been growing for 15 consecutive months, and is currently experiencing the sharpest rise in house building orders since 2003, while companies are taking on new workers at the fastest rate since 1997.
A growing pipeline of new projects is also emerging from the reformed planning system. Last year successful applications for major housing schemes were up 23%, and planning permissions were granted for 216,000 new homes.
Tenants exercising their Right to Buy
Mr Lewis said the latest figures for Right to Buy sales, published today, show hard-working tenants are also benefiting from government assistance.
Between April and June 2,845 council owned properties were sold, a 31% increase on the same quarter last year, and bringing the overall number of homes sold under the reinvigorated Right to Buy to nearly 22,500.
Receipts from additional sales are now being recycled into building new affordable homes. In the last quarter councils received £211 million, and started work on 675 new homes, bringing the total number of replacement homes started to almost 3,700.
More than 480,000 new homes have now been delivered since April 2010, including almost 200,000 affordable homes.
Brandon Lewis said:
Wherever you look across the housing market, the signs of progress are clear. House building in England is up by over a fifth compared to last year, orders for building materials are rising at the quickest pace for 11 years, and companies are hiring new staff at the fastest rate since 1997. Hardworking tenants are also voting with their feet and taking up the Right to Buy.

This progress did not happen by accident. It bears testament to our efforts to reform the planning system and help homebuyers while paving the way for house builders to boost their output. But there's still more to do, and improving the housing market will remain a vital part of our long-term economic plan.
More help for tenants taking up their Right to Buy
After Right to Buy discounts were increased in April 2012, annual sales by councils quadrupled from 2,638 to 11,238.
The maximum discount caps available have just increased again, so tenants can benefit from up to £77,000 off the value of their home outside London, and £102,700 in the capital. These discounts will be increased annually by the Consumer Price Index level of inflation.
Earlier this month the government also announced that tenants can now be guided through the home buying process by a new team of experts.
The Right to Buy advisers will be on hand to offer free advice, support and information, and tenants can now ring a dedicated local rate helpline to speak to a member of the service.
Office address and general enquiries
2 Marsham Street
London
SW1P 4DF
Contact form http://forms.communiti...
General enquiries: please use this number if you are a member of the public 030 3444 0000
Published 21 August 2014