News story
Home Secretary publishes Government response to Rotherham reports
Today the Home Secretary laid a Written Ministerial Statement in Parliament on the Government's response to Professor Alexis Jay's report on child sexual exploitation in Rotherham and Louise Casey's follow up report on the performance of Rotherham Council.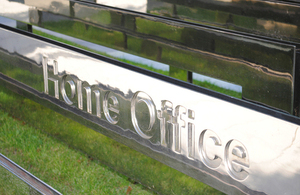 In September last year the Home Secretary announced that at the Prime Minister's request she would chair a series of meetings with Secretaries of State for Communities, Education, Health, Justice and the Solicitor General to look at the failures highlighted in Professor Jay's inquiry.
The actions announced today will strengthen accountability and leadership in professions and local government; address the culture of inaction and denial that led to victims being dismissed and ignored; improve joint working and information sharing so that agencies intervene early; strengthen the protection of children who are at risk; reinforce law enforcement efforts to stop offenders; and provide greater support for victims and survivors.
Among these actions are:
The establishment of a new independent taskforce, bringing together specialists in social care, law enforcement and health, which will be deployed in local authorities where child abuse is a concern. Linked to the taskforce, will be a new centre of professional expertise, which will develop better approaches to tackling sexual abuse.
The launch of a £1 million communications campaign, to promote a wider understanding of what people should do when they suspect a child is being abused. This will be accompanied with revised guidance, What to do if you're worried a child is being abused, for professionals, the public, and children.
The creation of a new single point of contact for child abuse related whistleblowing, which will monitor patterns of failure across the country. We will make clear that all organisations with safeguarding responsibilities should have internal whistleblowing policies.
To help tackle offenders we have given child sexual abuse the status of a national threat in the Strategic Policing Requirement so that this is prioritised by every police force.
An early warning system so that we can intervene earlier, and ensure proper accountability. This includes a new system of multi-agency inspections including Ofsted, Her Majesty's Inspectorate of Constabulary and the Care Quality Commission to scrutinise current regimes and asses how well agencies are working together.
In addition, the Home Secretary and ministers have written to the leaders of every local authority, Directors of Children's Services, Police and Crime Commissioners, Local Safeguarding Children's Boards, Health and Wellbeing Boards and GPs, making clear that there can be no justification for failing to share personal information about a child when that information can be used to protect that child's life.
The Prime Minister, alongside the Home Secretary and Secretaries of State for Health, Justice, Education and Communities and Local Government will meet leaders from local authorities, children's services, health professionals, Chief Constables and experts in child protection today in Downing Street, where he will demand local areas work more effectively to strengthen the systems in place to protect children.
National threat
The Strategic Policing Requirement (SPR) sets out the Home Secretary's view of the national threats that the police must address and the national policing capabilities required to counter those threats.
The national threats in the SPR are terrorism, civil emergencies, public disorder, cyber incidents, serious and organised crime and now, for the first time, child sexual abuse (CSA).
Making CSA a national threat in the SPR will ensure that PCCs and chief constables prioritise work to safeguard children, ensuring that they approach CSA with the same focus and determination as a national emergency, critical incident or terrorist attack. It will allow forces to act swiftly to protect children through more effective and efficient sharing of resources, intelligence, specialist skills and best practice.
Policing Minister Mike Penning said:
Child sexual abuse is a despicable crime which this Government is absolutely determined to eradicate.

We have seen the systemic and appalling abuse of children in Rotherham, Rochdale, Oxford and elsewhere, but we know that this is a crime that affects communities of all kinds up and down the country.

The scale of child sexual abuse and the growing numbers of victims now coming forward to report abuse mean that it is right for child sexual abuse to be designated a national threat within the Strategic Policing Requirement.

By doing so, we will ensure that Police and Crime Commissioners and chief constables work together, share intelligence and prioritise work to safeguard children to better respond to prevent abuse from happening altogether.
Published 3 March 2015