News story
Home Secretary lights the touch paper on the next stage of radical reform of the Home Office
Home Secretary Theresa May has today argued that "fundamental, urgent and radical" reform of the Home Office is needed to meet the operational and financial challenges this country faces.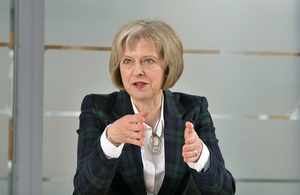 In a speech in central London on Tuesday 10 November hosted by think tank Reform she outlined her ambitions for counter terrorism and extremism; immigration and border security; and crime and policing.
The Home Secretary proclaimed the Home Office as a 'great department of state'.
But she said that with more people and goods crossing national borders; new and emerging threats to national security and; the changing nature of crime all set against a backdrop of financial pressures, the Home Office needs to radically reform the way it works to improve the lives of people in this country.
Home Secretary Theresa May said:
For citizens, the Home Office will be less bureaucratic and more accessible. Services will increasingly be digital and more convenient, from visa and passport services to reporting non-emergency crimes.

For those we seek to disrupt, the Home Office will be harder to evade. Criminals, extremists and illegal immigrants will find law enforcement using all of its tools, data and technology to disrupt, investigate and prosecute their activities. Extremists and terrorists will find themselves outnumbered by the much greater mainstream majority - whether they are online, in neighbourhoods, or on the airwaves.

And for those that work in the Home Office, there will also be a profound change. There is no escaping the fact that spending reductions may lead to there being fewer people, fewer buildings and less room for error. But the changes we will make will improve what we do and how we do it by using better technology.
The successful reform of police forces while reducing crime to its lowest levels since 1981 will provide a blueprint for Home Office reform.
Home Secretary Theresa May said:
Back in 2010, the problems in policing were painfully apparent. Accountability to the public was diffuse and opaque. Police productivity was held down by targets and key performance indicators.

I set about implementing an urgent programme of methodical, yet radical, reform. I systematically overhauled each aspect of policing – bringing about those things that successful public services depend on most of all strong institutions, proper accountability, real productivity, efficient systems, and a culture which rewards the right things.
In the last Parliament, the Home Office did not shy away from the challenge of deficit reduction. Between the 2010 and 2015 general elections, I reduced the Home Office budget by 30 per cent in real terms - the equivalent of a £3.1 billion saving for the taxpayer.

And just as with policing, far from the roof falling in, services and security have in fact improved.
Earlier in the day the Home Secretary personally addressed Home Office staff about her planned changes for the department.
In a speech praising the efforts of civil servants she called for fundamental reform:
Technology and data must be harnessed to reform the way the Home Office does business - in every way.
Her Majesty's Passport Office shows what can be done. You will shortly be able to apply for, renew and update your passport online with limited or no human intervention. Use of biometric visas and analysis of exit checks data will transform the way we tackle illegal migration. And e-gates at the border will free up border officers for more targeted activity, while actually delivering a higher level of security.
Embedding a better culture.
In the past, we have been too accepting of a mentality which is closed to external ideas and a bureaucracy that hinders our ability to deliver. So I will give officials greater discretion over how they do their jobs and introduce greater flexibility in how resources are used across the department.
Greater diversity.
Because while the Home Office has a proud record on diversity, and nearly a quarter of staff are currently black or minority ethnic, it remains the case that hardly any senior civil servants are from BME backgrounds. So we must go further, through initiatives like blind recruitment, which the Prime Minister recently announced – to set the example for police forces, our agencies and our suppliers that we must represent the people we serve.
She concluded by saying:
And in my time as Home Secretary, I have been determined that the Home Office takes on those tough, stubborn issues that matter to people.

Issues that in the past have been too frequently ignored. Like child sexual abuse and domestic abuse, which have gone hidden, overlooked or dismissed for decades. I believe that as a country we have yet to face up to what has gone before. But thanks to the tremendous courage of survivors we are now starting to understand the scale of what has been going on for decades, and sadly continues to this day.

Issues that are difficult to spot. Like the evil of modern slavery, the perpetrators of which continue to trick and force vulnerable people into a horrendous existence of exploitation, forced prostitution and inhumane labour – nearly two hundred years after the slave trade was abolished in this country.

Issues that are sometimes even harder to confront. Like the pervasive misuse of sensitive police powers of stop and search which wastes police time and has instilled in some communities a distrust of the police that has yet to subside.

And the business of reform may sometimes seem procedural and administrative, but issues like these are not solved by budgets and process alone. They must be tackled by a combination of common sense, compassion and conviction.
Published 10 November 2015