News story
Home Secretary launches new joint fraud taskforce
New taskforce combines the work of law enforcement, government and big business to crack down on fraud.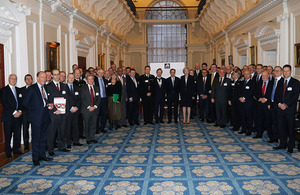 Home Secretary Theresa May today announced a new taskforce to crack down on fraud in the UK, saying that "fraud shames our financial system".
The Joint Fraud Taskforce will be made up of made up of key representatives from government, law enforcement and the banking sector. The Taskforce will create a new era of collaboration, resulting in shared intelligence, a unified response and greater awareness of the risk of fraud among consumers.
The Taskforce will include the City of London Police, National Crime Agency, Financial Fraud Action UK, the Bank of England, Cifas and CEOs of the major banks.
At a roundtable attended by key sector bodies and co-chaired by the Lord Mayor and the Home Secretary, members came together to sign a declaration of their commitment to tackling fraud and reducing its devastating impact.
Setting out the work for the new Taskforce, the Home Secretary said:
Our economy relies on the financial system and everyone in this country benefits from its global success. But the scale and volume of financial activity also brings serious risks of economic crime and real opportunities for criminals to defraud hardworking taxpayers of their savings and earnings.

Fraud shames our financial system. It undermines the credibility of the economy, ruins businesses and causes untold distress to people of all walks of life. For too long, there has been too little understanding of the problem and too great a reluctance to take steps to tackle it.

I am delighted to officially launch the Joint Fraud Taskforce, which will bring the collective powers, systems and resources of banks, payment providers, police, wider law enforcement and regulators to bear on this threat.
The work of the Taskforce will include:
understanding the threat – working to identify key priorities for the Taskforce and spot intelligence gaps and vulnerabilities
collective response – fast-tracking intelligence sharing between banks and law enforcement for a more coordinated approach to serious and organised crime gangs, including the creation of a new top ten most-wanted fraudsters
victims and vulnerability – more efficient identification of victims and potential victims, including national roll-out of intervention training for bank staff
behaviour change - finding out why victims fall prey to fraud and helping to raise awareness of the steps they can take to protect themselves
tackling systemic vulnerabilities - removing the weak links in systems and processes, which fraudsters can exploit
This new Taskforce will build on ongoing work across the financial sector and law enforcement to protect consumers, such as the Dedicated Card and Payments Crime Unit, where police work alongside industry fraud investigators to disrupt fraudsters and secure convictions, which the Home Secretary visited this morning. She also met officers from the National Fraud Intelligence Bureau, operated by the City of London Police, and heard about their work identifying established and emerging frauds and those who are committing them.
Published 10 February 2016