Case study
WW1 Canadian VC recipient Henry Mareus (Harcus) Strachan
The story of Canadian First World War Victoria Cross recipient Henry Mareus (Harcus) Strachan.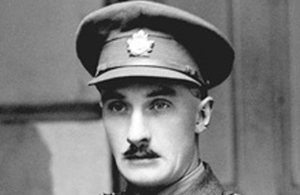 70 men from Canada received the Victoria Cross, Britain's highest award for gallantry, during the First World War. As part of the Centenary Commemorations the people of the United Kingdom marked their gratitude to those courageous men by presenting a bronze memorial plaque to their home country engraved with their names. The plaque is now displayed at the British High Commission Ottawa. This archive tells their stories.
Name: Henry Mareus (Harcus) Strachan
DOB: 7 November 1887
Place of Birth: Borrowstouness, Scotland
Date of Action: 20 November 1917
Place of Action: Masnières, France
Rank: Lieutenant
Regiment: Fort Garry Horse, Canadian Calvary Brigade
Henry Mareus (known as Harcus) Strachan was born in Borrowstouness, Scotland in 1887, and emigrated to Canada in 1908. In 1915 he joined the Fort Garry Horse, part of the Canadian Cavalry Brigade. He was commissioned the following year. In May 1917, Strachan was awarded the Military Cross after a raid near St Quentin.
It was on 20 November 1917 for his actions in Masnières, France that he received the Victoria Cross. His citation explains:
For most conspicuous bravery and leadership during operations. He took command of the squadron of his regiment when the squadron leader, approaching the enemy front line at a gallop, was killed. Lt. Strachan led the squadron through the enemy line of machine-gun posts, and then, with the surviving men, led the charge on the enemy battery, killing seven of the gunners with his sword. All the gunners having been killed and the battery silenced, he rallied his men and fought his way back at night through the enemy's line, bringing all unwounded men safely in, together with 15 prisoners. The operation – which resulted in the silencing of an enemy battery, the killing of the whole battery personnel and many infantry, and the cutting of three main lines of telephone communication two miles in rear of the enemy's front line – was only rendered possible by the outstanding gallantry and fearless of this officer.
Strachan went on to serve in the Second war and commanded the 1st Battalion Edmonton Fusiliers. He died in Vancouver in 1982. In 2013 a lake in Manitoba was named in his memory.
Published 20 June 2016