News story
Home Secretary hosts forum to end FGM
Amber Rudd leads joint action on FGM.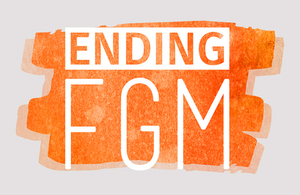 Home Secretary Amber Rudd has brought together government ministers, frontline professionals, charities, campaigners and survivors to co-ordinate efforts to end female genital mutilation (FGM) at home and abroad.
'Ending FGM: a forum to make a difference' saw discussions on how the government and other agencies can better engage with communities to encourage them to turn their back on this violent, abusive practice.
The Home Secretary and other attendees heard survivors share their personal experiences of FGM, the impact it has had on their lives and how they have attempted to move on and campaign against the practice.
Home Secretary Amber Rudd said:
FGM is a devastating act of violence that no woman or girl should ever have to suffer. I am proud that this government is taking world-leading action to tackle this horrendous crime, but there is more to do.

We are still yet to see a perpetrator brought to justice and I am determined to see the first successful prosecution for FGM. And most importantly, we need to protect women and girls by preventing acts of FGM before they happen.

The clear commitment shown by the people gathered here today makes me confident that we can wipe out FGM within a generation.
The forum also shared success stories and ideas for best practice, as well as the vital work being done by government agencies and international organisations to end FGM overseas.
Government ministers including the Minister for Vulnerability, Safeguarding and Countering-Extremism Sarah Newton, Public Health Minister Nicola Blackwood, Minister of State at the Department for International Development Lord Bates and the Solicitor General Robert Buckland QC, were joined by survivors and FGM campaigners, including Gemma Munday from activist group Youth for Change and Julia Lalla-Maharajh OBE, chief executive of the Orchid project, which aims to tackle FGM overseas.
Sarian Kamara, 39, an FGM survivor and community support worker who addressed the forum, said:
I want all those gathered to understand from a survivor's perspective what it means to go through violence like FGM. It is one of the worst forms of violence a woman or child can go through. It stays with you forever and it is a big part of your life.

It needs to be everyone working together. FGM is everybody's business. You don't have to be a woman, you don't have to be part of a particular community to do something. Everyone is responsible and everyone can do their little bit to make sure girls and women are protected from these kinds of violence.
The event follows the Girl Summit 2014 which saw then Home Secretary Theresa May and other government ministers, including the former International Development Secretary Justine Greening, commit to ending FGM within a generation.
Since then significant progress has been made, with this government taking world-leading action, including the introduction of FGM protection orders, stronger laws around the practice, new guidance for front-line professionals and the launch of a dedicated FGM unit to lead action across government and in communities.
On 25 November, to coincide with the United Nations' International Day for the Elimination of Violence Against Women and Girls, the Department of Health announced plans to mandate all NHS trusts to gather data on the treatment of patients with FGM.
Public Health Minister Nicola Blackwood said:
To end FGM once and for all, it is essential we know the scale of the problem and how many patients need care and support from the NHS. We are making sure that all of the NHS - from hospitals to GP surgeries - record details fully when they provide treatment to patients with FGM so women can get the right care and support at the right time.
But there is more to be done, and the government has always been clear that FGM cannot be wiped out without the co-ordinated efforts of law enforcement, health and social care professionals, charities, international organisations and communities.
Published 1 December 2016