News story
Home Secretary completes second visit to Afghanistan
Theresa May met President Karzai and senior ministers to discuss progress in tackling terrorism, illegal migration and organised crime.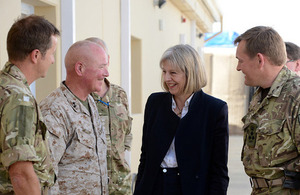 Home Secretary Theresa May has completed her second visit to Afghanistan, where she met British troops serving in the country and held talks with President Karzai and senior ministers.
Speaking during her visit, the Home Secretary said:
Delivering what I believe is important for the UK – cutting crime, reducing net migration and tackling terrorism – requires not just local and national action but also an international response.

We are in Afghanistan because its stability and security is vital to the UK. The courage and sacrifice of our Armed Forces has ensured that the terrorist threat to the UK from this region has been reduced substantially.
After flying into Kabul on Sunday 22 September, Mrs May travelled to the British Embassy where she met Her Majesty's Ambassador Sir Richard Stagg and UK staff working in the capital before travelling onwards to the Afghan Ministry of Interior for an office call with Acting Minister Omar Daudzai.
Mrs May then visited the Presidential Palace where she met President Hamid Karzai.
The following morning the Home Secretary travelled down to Camp Bastion, the largest British base in Helmand Province, where she took the opportunity to meet British troops serving on operations in support of the Afghan National Security Forces.
Following lunch with the troops Mrs May received an update from Commander Task Force Helmand, Brigadier Rupert Jones, on the work of the Task Force in support of the Afghan security forces who are leading on security in central Helmand for the first time this summer.
The Home Secretary continued:
Violent extremism is not the only threat. The vast majority of the heroin sold on our streets can be traced back to the fields of Afghanistan.

Just as our Armed Forces have provided training for the Afghan Army, we have mentored the Afghan counter-narcotics police. Our support will continue and will be strengthened by the work of the UK's new National Crime Agency, which becomes fully operational next month.

The UK's combat role here will end by next year, but we have made an enduring commitment to the Afghan people and it is clear from my visit that they, and their political leaders, are determined to rise to the significant challenges they face.
The Home Secretary left Afghanistan on Monday 23 September and travelled to Pakistan for meetings with Interior Minister Chaudhry Nisar.
Published 24 September 2013