Press release
Home ownership schemes help get Britain building
New figures today demonstrate how government efforts to help aspiring homeowners onto the property ladder are getting Britain building.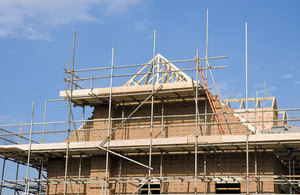 House building is a key part of the government's long-term economic plan. There were 36,450 new homes started in the 3 months to March – 11% higher than the previous quarter and a third higher than the same period last year, with house building by councils now at a 23-year high.
Private house building has increased by 34% since the launch of the Help to Buy scheme in April 2013.
And overall, housing starts are now 113% higher than in 2009 and the end of the unsustainable housing boom, and at its highest level since 2007.
Help onto the housing ladder
Over 27,000 people have been helped through the Help to Buy equity loan, NewBuy and Mortgage Guarantee schemes.
Since the discounts were increased in April 2012, local authority Right to Buy sales have quadrupled from 2,638 in 2011 to 2012 to 11,238 in 2013 to 2014.
Taken together with sales to housing association tenants, this takes the total to over 19,500 since the launch of the reinvigorated Right to Buy.
Revenues from additional Right to Buy sales are being recycled into building new affordable homes to rent and in the 3 months to March, work started on 906 homes using this funding – bringing the annual total to over 2,100, more than double the number started last year.
Overall, councils built 1,090 council homes in the 3 months to March, the highest quarterly total since 1991.
This is on top of the government's affordable homes programme, which has already delivered 170,000 new homes since 2010, with a further £23 billion public and private investment planned for the 3 years from 2015.
Communities Secretary Eric Pickles said:
In 2010 we inherited a situation where builders couldn't build, buyers couldn't buy and lenders wouldn't lend.

Today's figures show we're turning this around, with Help to Buy not only helping aspiring homeowners but also leading to a resurgence in house building.

Thanks to this and the reinvigorated Right to Buy, we're ensuring anyone who works hard and wants to get on the property ladder will be able to do so.
Housing Minister Kris Hopkins said:
The end of the unsustainable housing boom devastated our construction industry, leading to the loss of a quarter of a million construction jobs.

It's taking a massive government effort to get Britain building again and today's figures show it's working – in no small part thanks to the measures we've taken to help aspiring homeowners onto the property ladder.

Since the launch of Help to Buy, private house building is up 34%. And thanks to the reinvigorated Right to Buy even more tenants are able to become homeowners, while council house building has hit a 23-year high.
Stewart Baseley, executive chairman at the Home Builders Federation, said:
The Help to Buy Equity Loan scheme has supported demand for new build homes. House builders responded immediately, and we have now seen a big increase in the number of homes being built.

This is providing desperately needed homes and also creating jobs on sites across the country and in the supply chain. Whilst the number of Equity Loan scheme sales is very small in terms of the overall housing market, it is driving up new housing supply.

The scheme's extension provides certainty about longer-term demand for new homes. This is allowing the industry to plan ahead, rebuild capacity lost in the downturn and deliver the homes the country needs.
Further information
View house building figures for the March 2014 quarter.
View Right to Buy sales figures for the March 2014 quarter.
Kris Hopkins has recently outlined the range of government schemes working to get Britain building in Parliament.
Office address and general enquiries
2 Marsham Street
London
SW1P 4DF
Contact form http://forms.communiti...
General enquiries: please use this number if you are a member of the public 030 3444 0000
Published 15 May 2014