Press release
Holocaust Memorial Foundation takes forward Prime Minister's pledge to survivors
New board members to lead work and the official search for a site begins.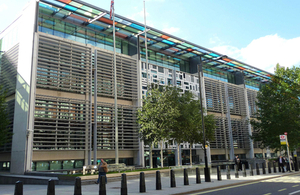 Speaking as a guest at the Holocaust Educational Trust's annual dinner, Sir Peter Bazalgette announces that the Scottish National Party MP and MSP Alex Salmond is to join the Chief Rabbi, Natasha Kaplinsky, Gerald Ronson CBE and New York's 9/11 Memorial and Museum director Alice Greenwald on the board of the United Kingdom Holocaust Memorial Foundation.
After the Foundation was established by the Prime Minister David Cameron with cross-party support in January, newly appointed board members will now lead its work to ensure that Britain remembers the Holocaust and educates generations to come about fighting against prejudice and persecution in all its forms. The board will be supported by a Survivor Group and an Education Advisory Group, including representatives of the Charedi community and the Gypsy-Roma community. Sir Peter Bazalgette welcomed the support of the Holocaust Educational Trust as a key part of the advisory group and described them as 'a tremendous guiding force in holocaust education in this country'.
The Rt Hon Ed Balls, Lord Andrew Feldman, Lord David Alliance will represent the other main political parties. Technology boss Baroness Dido Harding, Educational campaigner and charity champion Dame Julia Cleverdon DCVO CBE and Peter Freeman, founder of the property company Argent Group which is now developing the new 67 acre King's Cross site, will also take seats on the board, chaired by Sir Peter Bazalgette. Board members will oversee the creation of a new national memorial to the Holocaust and a world-class learning centre.
The Rt Hon Sir Eric Pickles MP will attend board meetings in his role as the Prime Minister's new Special Envoy for Post Holocaust Issues. He is taking over from Sir Andrew Burns who previously led on this issue internationally; chairing the International Holocaust Remembrance Alliance in the UK last year and supporting the delivery of the Prime Minister's Holocaust commission report Britain's Promise to Remember.
The UK's Holocaust Memorial Foundation is today publishing the site specification and criteria for the location of the striking and prominent new national memorial and world-class learning centre in Central London. The Foundation is inviting all interested parties to put forward proposals which meet the criteria by 30th October 2015.
Sir Peter Bazalgette, the chair of the new UK Holocaust Memorial Foundation, is also urgently appealing to Holocaust survivors and liberators who have never told their stories to come forward. Time is running out to capture the testimony of people who lived through the Holocaust and the Foundation is desperate not to lose any opportunities to record valuable stories forever.
Led by board member, Natasha Kaplinsky, the Foundation has already been using world-leading British technology to record the testimony of British Holocaust survivors and liberators, with a focus on those who have never told their story before. And this call comes in anticipation of a further £1 million project to record up to 100 British stories of survival and liberation from the Holocaust starting in October. The project will gather a one of a kind collection of British testimonials, all preserved using future proof technology. These stories will form a key component of the learning centre which will open in London in 2020 and will feed into other educational projects around the country.
Alex Salmond MP and MSP said:
I am honoured to be able to play my part in the Foundation's work to ensure that the national memories of the Holocaust transcend time. By ensuring generations come to understand the horrors that the world endured seventy years ago, the Foundation will create a lasting message about the dangers of prejudice and hatred taking root in any society. I'm proud to be involved with this work and hope that I will be able to add a particularly Scottish dimension to how the Holocaust is marked and remembered as part of the overall project.
Sir Peter Bazalgette said:
We have made important strides at an early stage of the Foundation's work but we must not rest. We have much to do to ensure that Britain will always remember humanity's darkest hour. I am delighted to welcome such a wealth of experience and talent to the Foundation's board. With cross party support, we have established a UK wide consensus and together we will honour Britain's pledge to our remarkable survivors that their legacy be secured.
Survivors or those who know of survivors wishing to take part in the UK Holocaust Memorial Foundation's testimony project should email ukhmf@cabinetoffice.gov.uk or write to The UK Holocaust Memorial Foundation, PO Box 72270, London, SW1P 9WU.
Published 7 September 2015