News story
HMS Montrose to assist in removal of chemical stocks from Syria
The Royal Navy frigate is assisting in the international effort to remove chemical stocks from Syria to stop them being used in weapons.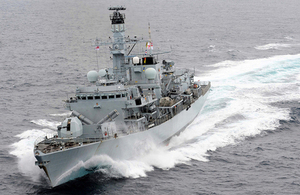 The Devonport-based Type 23 frigate will work alongside Danish, Norwegian, Russian and Chinese warships in the eastern Mediterranean to provide maritime force protection in support of the Danish and Norwegian merchant vessels tasked with transporting industrial-grade chemicals out of Syria for destruction.
The operation is a crucial step in the international mission to eliminate the chemical weapons programme of the Syrian Arab Republic by June 2014.
Dr Andrew Murrison, Minister for International Security Strategy, said:
I am pleased to be able to confirm that HMS Montrose will be part of the international mission to remove chemical stocks from Syria.

As well as playing a role in safely transporting the chemical precursors, the UK is also providing specialist equipment to assist with the hydrolysis of the most sensitive chemicals before their final disposal.
Commander James Parkin, the commanding officer of HMS Montrose, said:
Having already proven ourselves on operations in the Gulf over the past 5 months, we are honoured to be the UK unit allocated to assist in this vitally important job.

My ship's company are well-trained, well-motivated and well-equipped; all of us are looking forward to working for our Danish operational commander and alongside other allies in assisting the United Nations in their efforts to remove chemicals from Syria.
Since sailing from Plymouth Sound 6 months ago, HMS Montrose has spent the past 4 months in the Gulf on Operation Kipion, conducting maritime security and reassurance patrols, working with partner nations in the region, and safeguarding the sea lanes of the Middle East.
Published 13 January 2014